If you are looking for the best compact mini fridge, certainly we would recommend the Uber Chill UB-CH1 mini fridge. Sometimes the niftiest things come in the smallest packages such as the case when it comes to Uber appliances six can mini fridge. With an old school design that recalls retro-futuristic appliances from yesteryear, this affordable and adorable mini fridge is as appealing to the eye as it is to the wallet.
However, this miniature Maestro does more than just chill your drinks. If you want to keep a meal warm during that long drive to the family potluck, it's very easy with the Uber appliance UB-CH1 chill 6-can retro portable mini fridge. Just flip the switch on the back of the fridge too warm and voila, quick convenient heat to keep your homemade casserole nice and toasty.
Let's check out the in depth review of Uber Chill Mini Fridge.
Key Features of Uber Chill UB-Ch1 Mini Fridge
Ease of Use
Set it up next to your computer monitor for a cold iced coffee to go with your late-night binges blogging or hook it up the morning of your next road trip with the girls. There are two ways to power this fridge; both AC and DC. There's no need to dish out extra dough for a converter and you can even hook it up to your car. Thanks to the 12-volt car cigarette lighter cord that comes complimentary with your purchase.
Certainly, this retro mini fridge is perfect for a bedroom, office, dorm, car, beauty, or even your bathroom. It also has a removable shelf and a self-locking recessed door handle. Now I thought about this too, you know, you can take this to work with you. Of course, you can store your lunch and your drinks.
Storing Beauty Products
If you create fabulous natural treatments and home remedies that require refrigeration now, the Uber Chill Mini Fridge is perfect for you. You can use it as your very own personal beauty fridge. If you're mixing up and whipping up your favorite DIY home treatment or home remedy, you can keep it nice and chilled inside this Uber chill. This is the smallest and useful mini fridge you will ever find.
Moreover, if you use vitamin C serum, it does have to be refrigerated. Now, one of the things that most mini fridge users always debated about is, where in the refrigerator to put them so that your husband won't be shaking them in the Soup. This Uber compact mini refrigerator takes care of the problem.
Storage Capacity
Actually, it can hold up to 6 cans of 12-ounce weight or four 500 milliliter bottles. Now when you are mixing up your home remedies that require refrigeration, you now have your own personal beauty fridge to take care of it. And this is it the Uber chill mini fridge.
Heating Feature
This mini fridge will not only keep your contents cool, but it can also keep them hot as well. It features Heating and Cooling options to keep contents cool or hot. Both options are preset on optimal temperatures. Now, you can keep the super chill fridge next to your vanity area or you can put it in the bathroom for easy access.
Accessories
Additionally, it comes with 12-volt car cigarette lighter. So, you actually use this in your automobile. Yes, the cigarette lighter and both the AC and DC transformer and the 12-volt car cigarette cord is included in the box.
Construction
You can't help but say this is so adorable. But even though it's cute, it's high quality solid state thermoelectric cooling system helps to keep your contents at optimal temperature. The outside part of it is actually 11″ x 7-1/4″ x 10″ and inside it measures at 8-1/2″ x 5-3/4″ x 5-1/4″ (HxWxD).
Storing Baby Food
If you have a newborn, you need baby bottles readily available either cool or hot. This will take care of it. There is plenty of room for whatever you need to store and it is so convenient that you don't have to use the kitchen refrigerator to store your beauty products. And therefore, we can keep the food area of the refrigerator nice and sanitary. It is so sleek and highly functional.
The Uber chill personal mini fridge cooler is capable of housing again six 12-ounce cans of soda or even four sixteen-ounce bottles of your favorite beverage. You can leave this Uber chill mini fridge turned on all the time. As long as there is at least 12-inch clearance behind the unit for ventilation.
Weight
Now it actually weighs about three pounds. So, it's very light and very transportable. And again, it is powered by AC or DC power. It comes with both plugs right in the box. Therefore, it will work in your house or in your car or RV very conveniently.
In a hurry? Here is a video review of Uber Chill mini fridge for you.
Six best uses of Uber Chill Mini Fridge:
First, you can put it in the nursery for warm milk.
Alternatively, you could use it to store medicines that need to be refrigerated.
Besides, you can set this mini-fridge at the coffee station to cool the cream.
Plus, you can put it on your desk to warm your lunch in the office.
Connect the super cooler to your vehicle with a 12V power cord and keep drinks and snacks cold on long road trips.
You can use it as a cigarette lighter anywhere.
Uber Chill Compact Fridge Buying Guide
Buying the best Uber mini fridge puts pressure on you? Does the doubt confuse you by turning over your head? We know how it feels. We've gone through the entire tour of the Uber Personal Mini Fridge and found the pros and cons of it. We've thought of some questions that most of you might think.
 Although what we suggest here may go beyond what we recommend, it is essential to ensure that you conduct independent research on this product before purchasing. These issues may include:
Is it worth buying Uber Mini Refrigerators?
What are the advantages of buying the Uber UB-CH1 mini-fridge?
What factors should you consider before buying the best mini fridge by Uber?
What are the best mini fridges on the market today? Or what is the best Uber mini fridge of 2021?
 And where would you get this information? We believe you may have more problems, and the best way to quench your thirst is to solve them with a variety of online resources. The source could be anything like online forums, word of mouth, rating sites, shopping guides, and product reviews. Make sure you are reading from a highly reliable and trusted website or any other source.
 We've provided the shopping guide for Uber UB-CH1 mini refrigerator with 100% accurate and impartial information. The reviews on our website depend on the following factors:
Brand value
Features and Specifications
Product Value
Customer Reviews and Ratings
Quality and Durability
If you can trust our analysis, explore more on sweethomemaker.com.
Conclusion
 We have to say we love the Uber Chill UB-CH1. It is a small premium product that can not only meet your needs on the day of the game but also the other days on which you are waiting for the day of your favorite game.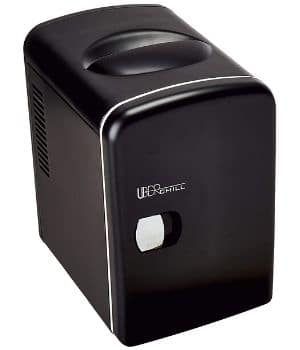 EdgeStar Convertible Mini Fridge
Della 14,000 BTU Portable AC