If you're struggling to keep your house cool this summer, you might want to consider a portable air conditioner. Even if you have central air conditioning, a portable unit gives the ultimate flexibility to make any room in your house cooler whenever you need it.
Although I have central air conditioning in my two-story house, there are some places that don't get cool enough. For example, we need to make the downstairs extra cold in the evening just so it's comfortable enough to sleep in the bedrooms upstairs installing a second AC Zone would undoubtedly help that problem, but it's a costly option.
But the hottest room in my house was the sunroom, which was built as a three-season porch, meaning I didn't run any ducks for my existing HV AC system. On a beautiful day, we would open the windows and enjoy the fresh air, but New Jersey summers are brutally hot and humid. So, we usually leave the windows closed and use a fan to blow in cool air from the house. That worked.
Okay, most of the time except when it was over 90 degrees outside. Then I bought a Midea MPF08CR81-E 8,000 BTU Portable Air Conditioner. This portable AC is so useful that it pushed me to write this review of Midea portable air conditioner.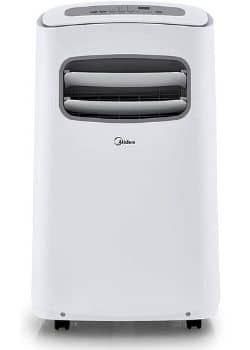 Features of Midea 8000 BTU Portable Air Conditioner
Now, this model is eight thousand BTU and recommended for rooms up to 100 square feet. This portable AC comes with everything you need, including remote control and Wi-Fi connectivity. Therefore, it can be controlled via a smartphone app or Amazon Alexa.
Portable air conditioners vent warm moist air out the window through a flexible tube. This model can be installed in hung or sliding windows up to 48 inches wide or tall. My room windows are taller than 48 inches. So, I had to hack it with a piece of plywood half-inch thick, and I painted it white to look beautiful. 
Naturally, the included weatherstripping was too short as well. So, I'll need to get my own. The vent hose came with two adapters that snapped on each end, one connected to the window slider and the other to the back of the unit.
The hose was generously long, so I collapsed it down to fit my space. This Midea portable air conditioner has a digital control panel on top that lets you set the temperature, mode, fan speed, timers Etc. The display is a little hard to see in the daytime, but I guess that's so it wouldn't be overly bright in a bedroom at night.
Sleep Mode 
 This mode automatically adjusts the temperature and stays cool all night long to match your body's natural sleep cycle, allowing you to enjoy the most comfortable sleep.
 Easy to carry
 Additional wheels provide greater versatility in motion so you can move the air conditioner wherever it cools (window access required) without hindrance.
 Eco Timer 
 The eco-friendly timer turns off automatically at night, saving energy and money.
 Direction Sensor
 The proximity sensor on the remote controls adjusts the cooling temperature according to the distance. This feature provides a better cooling experience and helps promote comfortable temperatures in areas that are inaccessible for the window AC.
 Reusable and Washable Filters
 The filter alert feature makes it easy to know when to replace the filter. At the same time, reusable filters mean better air quality without expensive spare parts.
Ease of use
All those functions are also accessible from the comfort of your easy chair using the included remote. Surprisingly, the remote controller even came with batteries. This model also has Wi-Fi connectivity so you can control it from the Midea smartphone app anywhere in the world. And if your hands are busy, you can use your voice. "Turn on the air conditioner." 
The best feature of Midea 8000 BTU Portable Air Conditioner
My favorite feature is the swing button that causes the front louvers to oscillate, and it prevents cold spots in the room.
So how effective was it cooling my room?
Well, I tested it on one of the hottest days of the year. It was 98 degrees outside. The sun was Blazing, and there was no Breeze. The Medea was cooling around 61 degrees in the exhaust air was a whopping 108. The unit was running continuously to keep the room around 81 degrees, but it was comfortable. Keep in mind this 8000 BTU air conditioner is only recommended up to a hundred square feet. 
My room is around 300 square feet and surrounded by glass. So, I was really impressed. I was really surprised at how easy it was to hook up this air conditioner and how well it worked in this space. I'm sure it would work in any of the other bedrooms in my house as well.
Conclusion
The Midea 8000 BTU 3 in 1 portable air conditioner works very efficiently and silently. In this unit, you can choose any temperature between 62 to 95 degrees Fahrenheit for making yourself more comfortable. With three fan speeds and five operating modes, you can select the desired combination of settings from the control panel or the included digital remote control.
 For quick operation, select the automatic button and set the desired temperature. The Sleep Energy/Eco-Friendly option automatically adjusts the temperature at night and helps save your electricity bill. The convenient remote-control feature use proximity detection sensor to improve the cooling according to your distance from the device.
 At the same time, additional wheels provide convenient portability, so you can move and store the unit without lifting it.
Installation is very simple: simply install the included bracket (26. 5-122 inches) into the existing frame and connect the drain hose from the clamp (59 inches long).
Considering all these pros and cons, we would happily recommend the Midea 8000 BTU portable air conditioner.
Learn more about how to choose a portable air conditioner here.
Watch this video review of Midea 8000 BTU Portable Air Conditioner.