The United States Postal Service (USPS) has some certain rules for residential mailboxes. Your mailbox should comply with several rules and regulations. Mailbox standardization helps ensure the security of mail carriers and their delivery items—specifications for locking, packing, or mounting mailboxes on the wall.
 

General Rules of USPS for Curbside Residential Mailboxes
All mailboxes must meet the internal and external dimensions requirements of the USPS.

Curbside mailboxes should be installed facing the road so that the postmen can deliver the mail sitting in their vehicle.

The box or house number on the mailbox must be represented in at least 2.5 cm high. Numbers must be placed visibly on the front or side of the flag of the box.

Mailboxes must be placed 15 to 20 cm from the side of the road; received mail slots or doors must be 104 to 114 cm from the floor.

Post-mounted curbside mailbox post must be buried no more than 61 cm deep; posts made of wood should not be more than 10 cm high and 11 cm wide. Steel or aluminum pipes, 5 cm in diameter, is also acceptable.

Newspaper sockets can be installed on the same post, but cannot be directly linked to the mailbox or compatible with it.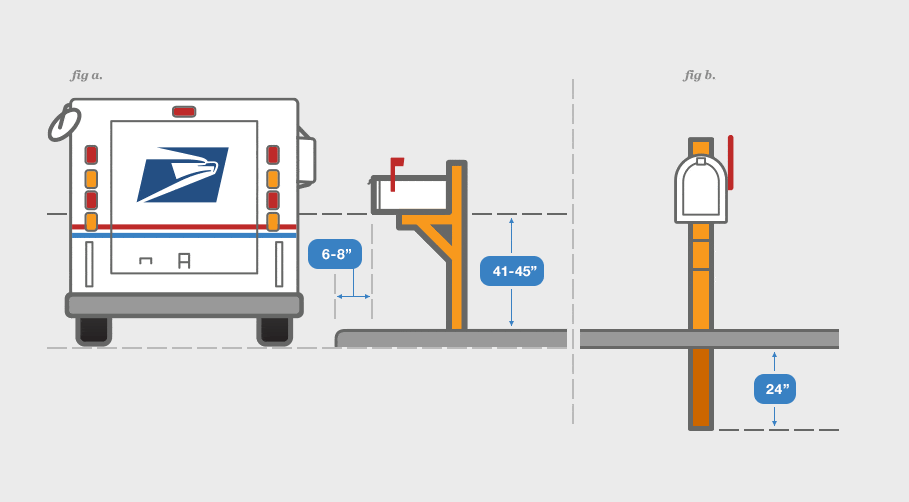 USPS Rules for Locking Residential Mailboxes
Lockable mailboxes (link on this site) effectively prevent theft or breach of mails. The USPS requires them to meet the same regulations as standard mailboxes. The regulations for locking mailboxes are as follows.
Slots receiving messages must be at least 4.5 cm high x 25.5 cm wide.

It should be easily accessible for the postman to put the mail in the locking mailbox.

The mailbox slot should be large enough to accommodate the normal daily mail volume of the resident.

Slots must also be large enough to accommodate the deployment of our priority envelope.

Locks cannot be used in contemporary or traditional mailbox designs.

USPS operators do not open mailbox locks and do not keep mailbox keys.
 USPS Regulations for Parcel Mailboxes 
 Parcel mailboxes are sometimes called large rural mailboxes, package mailboxes, or T3 mailboxes. Regulations for parcel mailboxes are almost the same as the standard mailboxes. The advantage of parcel mailbox is it can receive large items.
Approved parcel mailboxes are no more than 57 cm long, 21 cm wide and 30 cm high.
 USPS Rules for Wall Mount Mailbox Installation 
 Wall-mounted mailboxes (link on this site) are useful in areas where postal carriers walk. They are also useful for residents with physical disabilities.
USPS does not have specific size requirements for wall installation of mailboxes, but local rules may apply.

Customers should consult local postal managers or mail carriers before installing a wall-mounted mailbox to ensure proper placement and uninterrupted mail delivery.

The flap on the wall-mounted mailbox should work smoothly and reliably.

Mail operators must have secure and unhindered access to mailboxes.
 Is it legal to Cement a Mailbox? 
 Yeah, you can cement your mailbox. But if you want, you can put a small sign on the side explaining that it's reinforced with cement. The waster won't read it anyway, but at least it'll be there.
 Does my mailbox belong to the USPS? 
 Owners should be aware that even if they purchase and maintain a residential mailbox, the mailbox belongs to and is controlled by the USPS (United States Postal Service). This means that any manipulation of a mailbox is a federal offense.
 Can I move my mailbox to the other side of my entrance? 
 No, you can just move your mailbox. You need to get permission from the USPS. Since you are in an installation path, I guess the box has always been where it is, and you can't move it yourself.
 Have you considered that your dumpster might block it, or that other cars might block it if it was near a neighbor's entrance or the dustbin? USPS considers all these things, especially the safety of postmen. This also applies to walk routes where the box location cannot be moved without permission because it is in the travel path.
What if I don't have a mailbox? 
 If you do not have a mailbox, you will not receive any mail from the USPS. Your address is likely to have been marked as "NMR" by the carrier, which means "No Mail Receptacle." And the mail will be sent back to the sender.
 However, UPS and FedEx do not use mailboxes to deliver your parcel if your place is mentioned on the packaging. If you don't have any mailbox, you can receive your mails at the post office. When you order an item for delivery and receive mail at the post office, you must provide both addresses because the other carrier will not deliver it to the post office.
 Do I need permission to move the mailbox? 
Not really, but you have to comply with certain rules. 
Moving mailboxes is subject to two sets of rules: guidelines for the United States Postal Service and most local governments. Although there are differences between jurisdictions, there are common rules for moving mailboxes.
 Postal Service Regulations
 The postal service allows you to move mailboxes, but you must place them in a location that is easily accessible to the postman. For example, a road mailbox must be located in a location where the mail carrier can send mail from the delivery vehicle.
Non-Curbed Road
 Typical local rules require the mailbox to compensate for the entire width of the off-road shoulder by adding a specific number of inches.
 Curbed Road
 On any street on one side of the road, the mailbox must be repositioned for a specified number of inches from the side of the road. Typical space is 10 inches or a little less.
 Before relocating the mailbox, you must call USPS to get the applicable rules.
 What color should the Mailbox Flag be? 
There is no specific rule for a mailbox or flag color.
 Though the mailbox flag can be of any color, it is recommended not to use shades of green, brown, white, yellow, or blue. The preferred color of the flag is fluorescent orange. Besides, the color of the flag should show a clear contrast to the main color of the mailbox.
 Should I put my name on my mailbox? 
 There is no rule for that. It's your choice. Putting your name in your mailbox allows your operator to know who receives the mail at that address.
 If you have the same postman delivering your mail every week, they will eventually know everyone's name on your route. Still, each time they take a day off (regularly scheduled day off, illness or vacation), or if they move to another route, the person delivering your mail has no idea who it is.
 Can a neighbor put a mailbox on my property? 
 Usually, if it is a curbside mailbox, it is not on your property at all. If it is in your house, then it is not near the line at all.
 Assuming that the municipality has mailboxes on the street and that the operator does not store mail in boxes directly connected to the house, most of these boxes will be at the end of the entrance, almost always facing home on the left side. This means that failure is an unusual configuration in the construction of the house and the property line; the mailbox should not approach the neighbor's property line.
Who should I contact if I want to move my mailbox?
You should contact your local post office first. The USPS does not regulate the relocation of residential mailboxes throughout the country. Instead, they allow the local post manager to decide what is best for their geographic location and mail service.
 The USPS mailbox location rules are strict. If you take the time to call or visit the post office before moving your mailbox, it can save you a lot of headaches.