Top 5 Magic Chef Mini Fridges that you can trust blindly
Before we start Magic Chef mini fridges review, let's have a quick look at its history and reputation.
The brand name Magic Chef was first introduced in 1929 and dominated in the oven and stove industry, American Stove Company officially changed its name to Magic Chef in 1951.
In 2010, MCA Corporation bought the brand Magic Chef from Whirlpool. MCA saw the substantial potential of the brand and its emotional connection with consumers and begins to invest more for the long term.
Today, the Magic Chef brand is experiencing a revitalization in product development, marketing programs and consumer connections. Therefore, the Magic Chef brand is committed to manufacturing reliable and convenient products. 
Here we have tried to introduce you with some top Magic Chef mini fridges which are best in term of quality as well as best-selling title with customer experiences.  
1. Magic Chef 27-Lb. Countertop Ice Maker Mini Fridge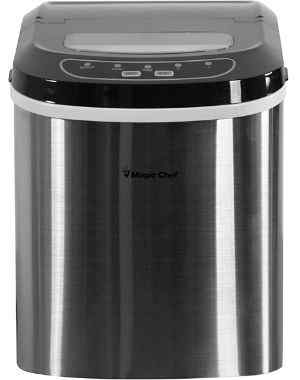 Magic Chef 27-Lb. Countertop Ice Maker can make up to 27 pounds of ice every day to provide you with a constant ice supply. This Countertop Ice Maker is exactly what you need to fill your ice cube or drink jar when entertaining friends and family.
The Countertop Ice Maker can easily hold up to 1.5 pounds of ice at a time. Its digital control panel indicates when the storage box needs to make it empty.
This Magic Chef produces two sizes of ice cubes in just 7 minutes and has a compact design for easy portability.
Key Feature:
Portable mini ice cube maker
Makes ice in just 7 min
Make nine ice cubes per cycle
Choice of 2 ice cube sizes
Compact countertop size
Exterior drain
See-through window
Easy-touch control pad with indicator lights
Indicator lights for ice & water levels
Fingerprint-proof stainless cabinet with blacktop
2. Magic Chef 2.4 Cu Ft Mini Refrigerator MCAR240B2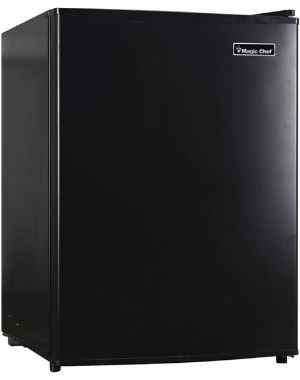 The Magic Chef 2.4 cu. ft. Mini Refrigerator has fresh-food storage options. It offers plenty of extra space for storing your favourite beverages and refrigerated snacks. This Magic Chef Mini Refrigerator has two removable shelves and generous in-door storage to keep food & beverage organized. Moreover, the reversible door and flush-back design provide additional flexibility in placement.
Key Feature:
Offers 2.4-cu. ft. capacity for refrigerated items
Compressor cooling system (CCS) for a consistently cool temperature
Adjustable temperature thermostat control for customized cooling (if needed)
Substantial in-door storage options for large and small beverages
Two removable wire shelves accommodate a variety of foods and beverages
Reversible door and flush-back design to provide additional flexibility to the customer for the arrangement
Leveling legs help stabilize the Refrigerator on uneven surfaces
ETL approved
3. Magic Chef 3.5-Cu. Ft. Mini Fridge with Freezer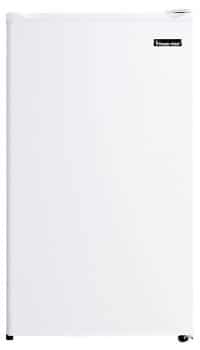 Magic Chef 3.5-cu. ft. Mini Refrigerator with a full-width freezer compartment has the storage options which may be the right choice that you are searching. Its sleek look blends with the well-designed interior. This mini fridge includes a 12-ounce dispenser that conveniently keeps drinks on the door. 
Three adjustable and removable glass shelves are for personalized arrangement. Reversible door with a flush-back design leads easy opening option for the right-handed or left-handed person at the same time. This mini fridge is a beautiful choice for any squeezed space. 
Key Feature:
White door / White cabinet
Manual defrost
Full width freezer compartment
Glass shelves
Interior light
4. Magic Chef Retro Mini Refrigerator 3.2 cu. ft. 2-Door Fridge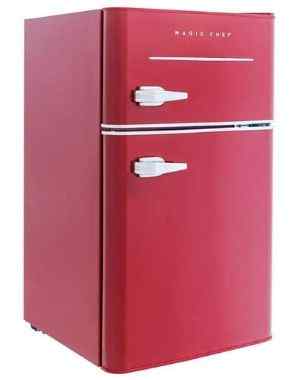 Magic Chef Retro Mini Refrigerator is one of the customer choice fridges of Retro functionality. It has easy temperature control functions for efficient cooling. Glass shelves are removable and easy for maintenance. Some people may say that contoured, retro-styled doors exude that classic, yet still contemporary look and feel.
Key Features:
Refrigerator interior LED lighting provides excellent viewing
Multi compartment design on the door for a better arrangement
Crisper drawer for storing your fruits or vegetables
Quick and easy manual defrosting
The top inner compartment of the freezer for small items that have already been frozen or for soft freezing 
Multi-purpose bin on the door for dairy products or snacks 
5. Magic Chef 4.4 cu. ft. Mini Fridge (Black)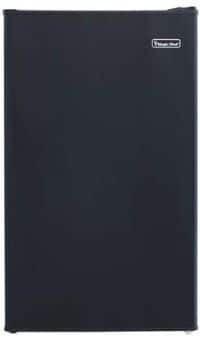 Magic Chef 4.4 cu. ft. Mini Refrigerator has the storage options for moderately more significant space. The canned dispenser conveniently places soda inside the door. In contrast, the additional door frame provides space for other commonly used items. Glass shelves are easy to clean and it helps to keep food items organized. This model is Energy Star qualified which means energy efficiency for year-round energy and money savings. 
This Magic Chef fridge has upfront interior analog controls for quick internal temperature adjustment. The door frame helps you to keep frequently used items on the front of the Magic Chef Mini Refrigerator for easy access. 
Out of 4.4 cu. ft. total capacity, 0.5 cu. ft. freezer-capacity is enough for storing frozen convenience items. This compact Refrigerator is manual defrost. Reversible door offers a lot of options for placement in a room or dorm.
Key Features:
Vegetable crisper function helps to keep perishables fresh
Freezer compartment stores keep frozen foods for the short term as it is a mini fridge
In-door storage shelves for beverages & snacks
Adjustable thermostat control for custom cooling system
Three door-bins & 3 12 oz. Can-holders for your convenience