Living in poorly ventilated buildings can have profound effects on your health. It can expose you to harmful allergens that can cause airways to be inflamed wheezing chest tightness, nasal congestion, coughing, and throat irritation.
Moreover, research tells that people who live in poorly ventilated homes are more likely to increase their risk of asthma and Suffer from depression. However, installing a portable air-conditioning unit in your home or commercial building can help maintain comfortable temperatures and lower Airborne indoor allergens.
Moreover, on top of reversing the heat produced by your body, they also help counter the temperatures generated by electric appliances, like computers, coffee makers, and washing machines.
In this review, we're going to take a closer look at the Della 14,000 BTU portable air conditioner, one of the best portable AC on the market, to help you improve the air quality and maintain the optimal moisture and temperature levels in your indoor environment.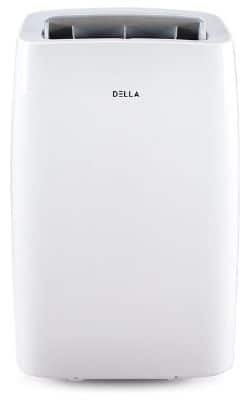 Key Features of the Della Portable AC
The first and most conspicuous thing to love about the Della 14,000 BTU portable AC unit is the small floor footprint measuring. It is just 13 and a half inches wide, 16 inches long, and 29 and a half inches high. This heating Appliance takes up less floor space, making it ideal for smaller apartments with limited space.
Cooling Power & Dehumidifier
Another thing you'll love about this small AC is its cooling power. It's powerful enough to comfortably aerate a room the size of 550 to 700 square feet. And if you live in a high humidity area, the built-in dehumidifier can condense up to 111 pints per day, making your home less hospitable to mold, dust, mites, and mildew.
Along with the built-in dehumidifier, the Della portable air conditioner also comes with a self-evaporation system. The system cools the coils using condensation from the dehumidifier water tank allowing the AC to efficiently manage the collected moisture and function independently without needing to be attended.
Another added benefit of this portable AC unit is its energy efficiency. The self-evaporation system helps to save up to 30% on energy bills, reducing your carbon footprint as well as saving some money. Adding to its Energy Efficiency is the 24-hour timer, which allows you to automatically turn the unit on and off depending on your availability.
Perhaps the most useful function for you as the consumer is the adjustable temperature feature using the logically laid out buttons and the fully functional LED display. You can make temperature adjustments, set the timer, and even control the fan speed at the comfort of your sofa or bed.
Maintenance of your portable air conditioner unit has never been this easy. The filter easily slides out of the back, allowing you to clean the filter every couple of weeks. And in the rare case of the self, the evaporation system malfunctioning, you can use the drain hose to get rid of the excess water collected in the water collection tray.
If you're looking for an inexpensive air cooler that is ideal for small rooms or office spaces, the Della 14,000 BTU portable air conditioner checks off all those boxes. It's a piece of cake to maintain, and it works just as advertised.
My Personal Experience with Della 14,000 BTU Portable Air Conditioner
I bought this portable AC unit about five months ago, and I'm really impressed with its service. Let me tell you the whole story.
So, what's unusual about this air conditioner is it doesn't use freon, the poisonous chemical that harms the atmosphere. It's an evaporative air conditioner. That means that it uses the moisture in the air to cool the coils, and then when the coils get cool, it blows air past them, and that's what cools the room.
And what's unique is it can get very much as cold as any other portable air conditioner can go. Just above 50 degrees Fahrenheit and I think that is so cool. So yeah, if you're interested in an affordable mobile air-conditioning unit, the Della 14.000 BTU would be a great choice.
So, before I talk about the features and how this air conditioner works, I think the most important thing I should explain is, it has a self-evaporative system. So, the most crucial part is, you don't need any draining system to take the water out. Just use a window kit to vent the hot air out.
Different Modes
There are four different modes. The first one is the cooling mode that cools the room. And the second one is the dry mode. It doesn't cool the room, but it absorbs the moisture that's in the room, and it drips down and collects in a reservoir at the bottom. At some point, the display will tell you that the reservoir is full, and you can open the drain plug and drain it, or the kit comes with a clear hose that you can attach to that drain plug so that it can be continually draining. You just have to make sure that there's a spot for it to run out.
The third mode is the fan. The fan is kind of self-explanatory. The final one is a timer. What that does is, if the unit is off, you can set the timer a certain amount of time before it turns on, or if the unit is running, you can set the timer for a certain amount of time for it to turn off.
Finally, there's an automatic mode. What that does is, once you set the temperature you want, there is a thermostat in there that measures the room temperature coming in, and it'll turn on and off to maintain the temperature that you set.
Remote Control
Oh, I almost forgot to mention. There's a remote control that comes with it. And the remote control has pretty much all the features that are on the device. But one interesting thing I noticed these louvers would open and move to help circulate the air, and that's really cool. I like that, but the remote control has a button to turn the leaf louvers on. Let's called swing that causes them to move. I noticed on the AC unit that there is no swing button on it. So, technically If you lose this remote, you won't be able to turn on the movement of the louvers.
Does it really cool a room?
Now, here's the most important part of this review. That is, how well it performs? How well does it cool a room? 
I put this unit in our Florida room, and the Florida room is 23 feet wide by 10 feet high. And when I measured the temperature in that room, it was 85 degrees. After turning on the unit and letting it run for two hours, it brought the temperature down to 75 degrees. Surprisingly it was able to cool down that pretty hot room by 10 degrees. It was really impressive.
It was really effective to cool that large size room, and there's a lot of Windows in it too. So, a lot of sunlight is coming in.
Portability
It's on casters, and it is so much easy to roll. As it is self-evaporative, it doesn't need any draining system. So, technically I can move it from the Florida room to my bedroom if there is a bracket in the bedroom also. 
Alright, so that is my review of the Della evaporative portable air conditioner. Whenever I review a product, I try to find some constructive criticism to make it better, and I really couldn't find anything to complain about with this unit. It does exactly as its advertised.
I guess the only thing to consider as a drawback is the instruction manual is not very detailed. There are certain things that it doesn't explain like the dry function. I had to figure that out myself and do some research. And there are certain things that it could have explained better, especially for someone who has never used one of these evaporative portable air conditioners before.
Conclusion
Considering all the features and drawbacks, we can assure you that the Della 14,000 BTU evaporative portable air conditioner won't let you down.
So, go for it now.
Let's watch a video review of Della 14,000 BTU Portable Air Conditioner.