Top 5 Best Roomba Vacuum Cleaner for Hardwood Floors
Efficient, Durable & Best Value
Hardwood floors are exquisite but delicate to care for. But with the best Roomba for hardwood floors, you won't have to worry about your unaccommodating daily cleaning routine, abrasions from the typical vacuum cleaners, or water damage from mopping.
All you will need is an excellent couch for relaxing as the Robo sweeper gets down and dirty to clean for you. It's about time to get one of these, right?
As with every need that arises, a thousand solutions flood the market. Therefore, we have sourced the best Roomba for hardwood floors with great customer reviews for you. Read on.
1. IRobot Roomba 981 Vacuum (Value Pack)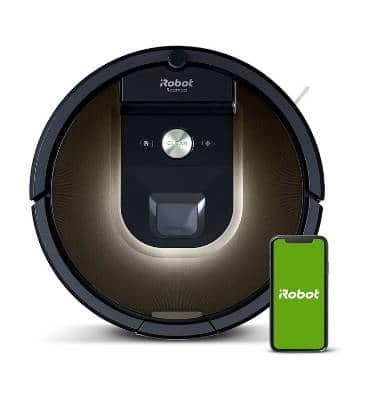 Daily cleaning has never been this easy. The premium 3 stage cleaning system clears all the grime, allergens, and even pet dander from your furry friend.
The IAdapt 2.0 Navigation with vSLAM technology feature lets the robot plan its surroundings to be sensibly clean in neat rows. The floor tracking sensors help the robot to navigate and clean your entire home without skipping any mess. Amazingly when the charge runs low, it recharges and resumes cleaning where it left off. What's more?
The Roomba 981 & Braava jet m6 robots grand duo works better together. The Imprint Link Technology allows the Braava jet m6 to start mopping once the Roomba 981 finishes vacuuming.
2. Roomba 690 Vacuuming Robot (Best Choice)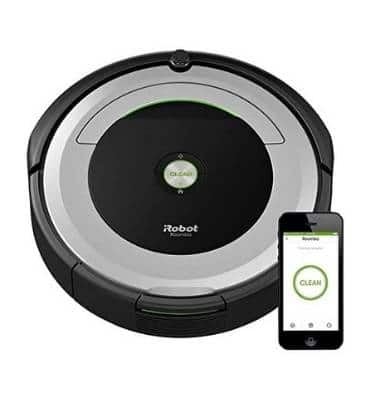 Dirt got nothing on you. The sleek and first-class design adds oomph to your home décor. You can schedule your home cleaning from your office, thanks to the iRobot Home App and smartphone access support.
Also, it has the original dirt sensors and the "Dual Mode Virtual Wall Barrier" that prevents it from slamming into walls while cleaning.
Moreover, this iRobot easily navigate under and around furniture safely without causing any damages with the help of the intelligent sensors guide. The 3 stage cleaning system allows even the toughest dirt to meets its match.
3. Roomba S9+ Robot Vacuum (Premium Choice)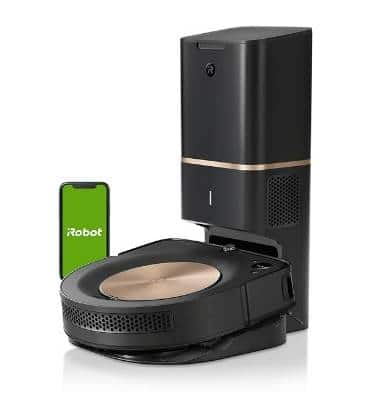 How clean can you clean? The Roomba s9+ is the best Roomba for hardwood floors. The smart mapping system allows the vacuum cleaner to fit into your home's layout and cleaning schedules while suggesting others.
The smart sensors allow it to detect any obstacles along the way. It traps and cleans 99% allergens and even pet dander from the stray cat that visits when you are not aware.
Also, this Roomba s9+ comes with a corner brush that cleans the hard-to-clean edges and corners and automatically empties itself. Sounds convenient, right?
Nevertheless, no need to worry about the battery life while cleaning as this iRobot will automatically recharge.
4. IRobot Roomba I6+ Robot Vacuum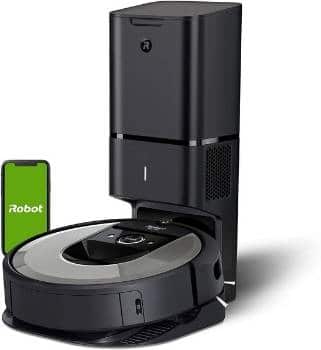 Nobody likes to take out the trash. The Clean Base Automatic Dirt Disposal with AllergenLock bags has four layers to trap 99% of allergen and then empties itself. Indeed, there's more room for your pet friend and this Roomba for hardwood.
Its powerful performance has Dual Multi-Surface Rubber Brushes that draw all the dirt and pet dander from the hardest to reach areas. Read on.
Moreover, the vSLAM navigation smartly draws your entire home and cleans every bit of it, navigating in neat rows. IRobot Home App allows you to change and upgrade your cleaning experience.
Finally, the dynamic duo of Roomba i6+ & Braava jet m6 vacuums and mops, respectively.
5. iRobot Roomba 980 Robot Vacuum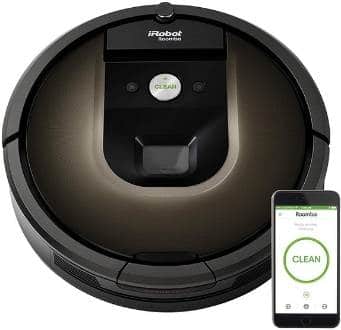 The most irritating thing of vacuuming is the prep work. If you need to avoid making thousands of little tiny passes with a clumsy push vacuum, you've got to take a position a big amount of your time learning and putting away toys, moving furniture and cleaning up clothes.
Unfortunately, many robot vacuums don't offer significant progresses during this regard. Their instruction manuals warn you to tidy beforehand if you don't want to urge stuck. They often accompany additional gizmos or aids to rope in terminally cluttered areas.
But iRobot Roomba is around long enough to understand that this is often not necessarily a time- or energy-saver. Roomba 980 has kept my house clean with minimal effort on my part. If you're willing to get out the cash, this is often the simplest robot vacuum you'll get.
It's a indication to the success of iRobot that its Roomba name has become interchangeable with "robot vacuum." It's easy to ascertain why after having your floors cleaned with the Roomba 960.  Most impressive, though, is its three-stage cleaning system that delivered the simplest results of any of the robot vacuums we tested.
It was very hard to select  favourite Roomba model because they're all so incredibly great. However, after watching all possible angles and features, it can be decided to keep Roomba 980 at very top position of the list for my best overall.
When compared to older series like the Roomba 600 series, this one has 5 times more power and suction for an enhanced dirt picking performance. Some people compare Roomba 960 vs 980 and Roomba 890 vs 960; each of the time I this you cannot avoid Roomba 980.
It knows the way to draw smart maps so it'll know a part of your home (one level). this is often possible thanks to its iAdapt 2.0 technology that's patented and has vSLAM navigation that actively catches thousands of accurate measurements each millisecond.
It has 3 stages of cleaning system which will discover and devour any pet hair or dust particles it founds.
The iRobot Roomba 960 model comes equipped with a dual rubber brush that's great for multiple surfaces which is capable to flex and work its way hardwood floors also as carpets.
Robot vacuums, especially pricey models like this, aren't for everybody. If you've got the time and energy to vacuum your house regularly, you actually don't need one. You'll still need do a deep clean every now and again, to unearth all the small crumb shadows under the junk that you simply refused to select up during the week.
But people can barely make it through the foremost basic tasks necessary to stop Child Protective Services from snatching away your offspring, then the Roomba 980 may be a very attractive alternative to hiring human help to wash your messes.
6. IROBOT ROOMBA 890 Robot Vacuum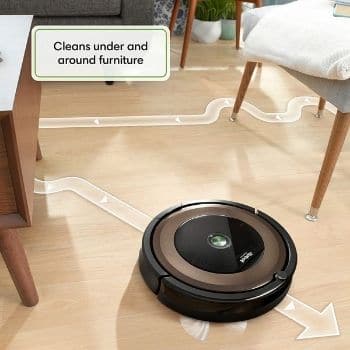 The iRobot Roomba 890 features a premium 3-stage cleaning system that loosens, lifts, and sucks within the dirt. To adapt on multiple surfaces, it's an Auto-Adjust Cleaning Head. The device comes with a patented dirt detector sensor that permit Roomba know where it must go and thus enforce the foremost trafficked places of your house.

The amazing part is that it is often scheduled when to figure with the assistance of the iRobot HOME App that's compatible with both Google Assistant and Alexa.

It runs for 90 minutes and when it endings charge, it automatically goes to recharge in its charging point or dock.
With its sensors and smart navigation system, the Roomba 890 has a humble time driving itself around barriers and navigating complex floor layouts. It can actually make quite 60 decisions per second so it can better adapt your home and its surroundings.

Its slimmed design allows it to duck or bend under low-level couch edges and other furniture where pet or dog hair often accumulates unseen. It easily recognizes concentrated areas where dirt and mud are and cleans these areas even more thoroughly.

The side brush sweeps in dog or pet hair along the walls and corners. The Roomba 890 may be a smart robot vacuum, too, although most of its features and settings are only accessible within the app. So, you'll got to connect it to your home Wi-Fi network during setup then download the iRobot Home app for your smartphone.

There is, of course, a 'clean' function – an enormous green round button at the middle of the app. it'll remotely command the robot to start out cleaning no matter whether it's on a schedule or not.

On the unit, you'll also see the cleaning status, set a cleaning schedule, and receive alerts like bin full.

The only app feature you miss out on buying this Roomba is that the cleaning report, which is merely available within the Roomba 960 and 980. However, you are doing have access to status monitoring so you'll see the status of cleaning jobs.

Once you connect the Roomba 890 to your Wi-Fi, you'll control it via voice using Google Assistant or Amazon Alexa. You can use the smart associate app on your smartphone or issue a command to a Google Home or Amazon Echo smart speaker.

The only thing you'll find annoying is how quickly the smallish bin fills up, especially if you've got multiple pets. Overall, the Roomba 890 may be a great bargain if you're trying to find a mid-priced Roomba with most of the smart features of Roomba's top robots and cleans even as well.

We belief that each one Roomba products are amazing, but they have a tendency to be a touch costlier than the remainder. However, the iRobot Roomba 890 incorporates their high-quality features and an honest price.

The only minus, in my opinion, is that it isn't the simplest option if you've got a cat or a dog, especially if it's one with long hair.
7. IROBOT ROOMBA 960 Robot Vacuum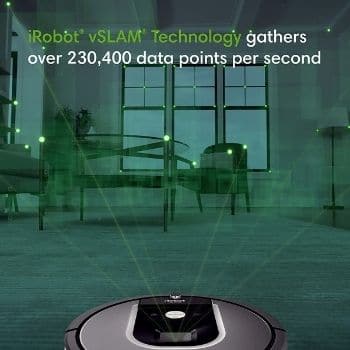 It was very hard to select my favorite Roomba model because they're all so incredibly great. However, after watching all possible angles and features, I made a decision to travel with the iRobot Roomba 960 model as my best overall.

Comparing to older series like the Roomba 600 series, this one has 5 times more power and suction for an improved dirt picking performance.

The 960's excellent whole-floor cleaning ability, combined with its many smart and Wi-Fi-connected features is why we've chosen this because the most suitable option overall for homes with hardwood floors.
While it's no mopping capability, we expect most of the people are going to be happiest buying this model.
Two things are crucial during a robot vacuum's ability to wash dust and debris from hardwood floors, and therefore the Roomba 960 has both:
1. Roomba 960 has 5 times the suction power than other cheaper Roomba models. It can easily pick dust, pet hair, food crumbs, and every one different sorts of debris.
2. Having two brush sets makes an enormous difference in how well a robot cleans. the twin roller brush system picks up pet hair and pushes debris inside the vacuum. The side brush sweeps in debris and mud from the edges and edges.

Like other top Roomba models, the Roomba 960 is offered with the iAdapt 2.0 intelligent camera-based navigation system.
The 960 maps and remembers your home to stay track of where it's cleaned, and which areas remain. It's essentially mapping out its surroundings so it can clean everywhere you would like it to wash including around different objects and even under furniture.
The Roomba 960 is additionally a whole-floor cleaner which will navigate from room to room while avoiding furniture and staying faraway from the steps .
This vacuum is additionally equipped with a mud Detect sensor that detects the dirtiest areas of your floor and directs the robot to spend longer there.
The Roomba 960 may be a great choice for people that got to clean while they're away. It automatically returns to the dock for a recharge when the battery gets low, then resumes where it left off. That said, if you're trying to find a reasonable and full-featured whole floor vacuum for hardwood floors, the Roomba 960 is basically hard to beat.
The iRobot Roomba 960 model comes equipped with a dual rubber brush that's great for multiple surfaces which is capable to flex and work its way hardwood floors also as carpets.
The last item that i would like to say here is that it offers the likelihood to attach it to a WiFi source.
8. iRobot Roomba 880 Vacuuming Robot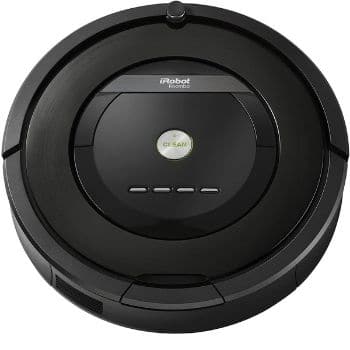 The Roomba 880 and 980 represents iRobot's commitment to improving their line that make it one among the simplest robotic vacuums within the market, if not the simplest.
The Roomba 880 was the primary to use the bristle-less brush roll system iRobot calls "Tangle-Free Aeroforce Extractors".
These contains two beater bars made up of rubber with "teeth" that interlock with one another . It works like gears and works well coitus interruptus dirt from hard floor and carpet.
The Roomba 880 may be a new model for iRobot and therefore the very first 800-series bot for the brand. At $699.99, it'll replace the equally priced Roomba 790 that Katie Pilkington recently reviewed.
So what's different? initially glance, not an entire lot. But, flip the vacuum over and you will see something entirely new: AeroForce technology. I'll enter that more later, but it's basically a design and have upgrade that improves performance tons.
Yes, I might recommend the Roomba 880 to anyone within the marketplace for a luxury-priced robot vac. It performed better than the $699.99 Roomba 790, and far better than the $799.99 LG Hom-Bot Square, also because the $349.99 Infinuvo CleanMate QQ5.
Overall, the 880 are going to be best for somebody who appreciates gadgets and understands that a robot vacuum isn't designed to exchange all other floor cleaning. It also is not the most suitable option for somebody only curious about vacuuming up pet hair. For that, the $449.99 Neato Robotics XV Signature Pro holds steady within the lead.
Stylistically, the 880 doesn't stray too faraway from iRobot's existing design. it's an equivalent rounded look, which same large Clean/Power button within the middle. the corporate clearly wanted to take care of the Roomba's unassuming, minimalist design and durable construction.

It comes with a changeable dust bin with an easy-access release button, a removable caster wheel, left and right side wheels within the front, debris extractors, and a rotating side brush. Apart from the vacuum itself, you furthermore may get a Home Base, or dock, two Virtual Wall/Lighthouse sensors with four C batteries included; an additional HEPA filter, and a foreign control with two AA batteries included.

The most attention-grabbing feature offered on the Roomba 880 is newly designed AeroForce cleaning system. It includes two bristle-free extractors that rotate inward toward each other to hurry airflow and increase suction. There's also a high-efficiency vacuum, and a replacement XLife battery that claims to last for much longer.

First, all of the built-in sensors performed flawlessly. The cliff sensors that keep the Roomba from taking a tumble down a flight of stairs knew whenever it got near a foothold, stopped, and altered direction. The Virtual Walls and Lighthouses I found out also did an excellent job either confining or leading the Roomba where it needed to travel to wash around my house. And once I tested it in my front room, it fit underneath a reasonably low arm chair, the media center, and therefore the cocktail table without objection. Now that's dedication.
9. iRobot Roomba i3+ : A self-emptying vacuum at humble budgets
Roomba s9+ and Roomba i7+ became the game changers in robotic vacuum arena with their self-emptying dustbins. Those removed the last manual task that is dumping all that collected debris and dirt from robotic vacuuming which made a truly automated capability. But unfortunately, those model's $800+ price MARK put this luxury out of reach of many buyers.
The i3+ would seem to be iRobot's remedial. It includes Roomba's self-emptying dock which called the Clean Base smart navigation, Alexa and Google Assistant support, Roomba Genius Home Intelligence, and other superior features at just $599.
There are technically two different models: one for its i- series of bots and one for its s- series. The big difference between the two is the placement of the dustbin port on the bottom of the base.
The vacuum is round, not like D-shaped as with the s7+, and structures a partially textured top to give it some eye appeal, as the vacuum and its portly Clean Base aren't easily concealed.
If you'd rather run the i3+ when you are not home, you'll schedule cleanings in two ways. a standard clock-based system allows you to set a start time and repeat it on designated days. When it is auto enabled, the vacuum will start cleaning initial time it detects you leaving your home on the chosen days.
iRobot says that it'll soon be adding a further feature to the i3+: the power to line cleaning intervals of 15, 30, or 45 minutes. The feature is meant for brief cleaning jobs, and when it's enabled, the vacuum will clean outward from its dock for the chosen duration.
The i3+ successfully brings a number of the subtle features of its higher-end self-emptying models to a mid-priced robot vacuum.
The i3+ successfully brings a number of the subtle features of its higher-end self-emptying models to a mid-priced robot vacuum. You don't get all the features of the i7+ or s9+—you aren't getting the customization that smart apps enable, for instance, and it doesn't accompany a virtual wall barrier, though you'll buy one separately for $60—but those omissions are necessary to stay the worth down.
Still, you get enough advanced functionality to form vacuuming tons less dreadful. If the i3+'s $600 tag is within your budget, it's well worth considering for the posh of fully automated cleaning.
10. iRobot Roomba 692: Robot Vacuum Review
The Roomba 692 is a praised, incredibly budget-friendly iRobot production with a sleek design and enhanced cleaning system to succeed in every corner and edge of your home. As you would possibly expect from an iRobot production, the Roomba 692 is full of premium-grade features, despite being one among the foremost inexpensive bots to grace the earth .

The Roomba 692 may be a part of the 600 series, described as being the primary step toward a better cleaning routine reception. As they're compatible with Alexa and Google Assistant, you'll now introduce these robots to your preferred cleaning routine and schedules simply through voicing your thoughts.

Thanks to the installed AeroVac filter, any hair, dirt, and debris that gets suctioned by the 692 is stuck in its dustbin until the top of your time. The filter uses a super-fine mesh that captures commonest allergens, like dander and pollen, and stops them from exiting through the exhaust port.
The 692 features a patented 3-Stage Cleaning system. The 692's sensors will constantly scan for concentrated dirt stains and focus heavily on those areas while conducting a vacuuming session. It will not leave the world until all detectable specks of dirt are extracted and stored in its dust bin.
The 692 doesn't have an auto-resume function, so users will need to instruct the robot to start out its cleaning session anew. This suggests it'll not devour where it left off but rather restart from the start.

The Roomba 600 series is nowhere near an equivalent level because the S or I series in terms of cleaning performance and convenience. However, as a beginner-friendly model with a quite reasonable tag, you'll sure get tons of labor through with the simplistic Roomba 692 Robot Vacuum and its array of impressive features.
How Does Roomba Compare to Other Brands?
There are many prominent brand for robot vacuum in US market. We have tried to compare most of those with our Roomba. Let's take a glance at a couple of vacuum brands and see how they compare.
Roomba vs Dyson
Dyson tends to be an important competitor within the vacuum world and they've recently created their own line of robot vacuums to compete with Roomba Let's take a glance at a number of the differences between Dyson and Roomba models.
The Dyson is far bigger being an in. quite most Roomba models Size are some things that an individual may or might not care about Someone may sort of a more compact robot or want something bigger to wash their floor.
The way they vacuum is different The Roomba tends to travel during a line moving when it hits an object the Dyson uses a grid pattern to maneuver around.
The Dyson tends to possess a smaller dustbin If having to empty out a dustbin more may be a deal breaker you'll not want the Dyson.
The Dyson's battery life is poorer. A Dyson tends to run 45 minutes before needing a charge while the Roomba lasts. For much longer, If you've got a smaller home this might not matter except for some it's a dealbreaker.
Higher-end Roomba models do adapt to carpets using more power The Dyson uses high power all the time which cannot be good if you're trying to conserve energy.
They move differently The Dyson has treads allowing it to maneuver around sort of a tank the Roomba uses wheels.
The Dyson may be a lot less loved by reviewers than the Roomba models. The Dyson 360 features a mere 2.5 stars on Amazon while most Roombas tend to possess a minimum of 4 stars. With electronics the negative reviews tend to be a more vocal minority.
The Dyson does have some unique features but when comparing them we've to travel with the Roomba. It offers more for the worth. Here is hoping Dyson can catch up.
Roomba vs Eufy
Do you need a robo-vac on a budget? Eufy offers robo-vacs for under $200 If you're someone who is pinching pennies but you would like a robot Eufy could also be an honest brand to seem at Here are some features of Eufy vacuums particularly its RoboVac 11+ line-up
The Eufy doesn't have smart device control That's a touch less convenient but people on a budget might not have a drag with its lack of smart features The 15c model of Eufy does have a WiFi feature.
The Eufy vacuum does have very good battery life than many Roomba robo models but the shortcoming is that it doesn't charge so fast. Both are capable of automatically recharging.
The Eufy is far lighter The Roomba tends to be two extra pounds which isn't an excessive amount of of a difference but some might not like that.
Eufy boosts its power when it encounters high-soiled areas the Roomba is great with soiled parts as well. 
We have mentioned that the Eufy has doing well for considering it's a budget model.     
Roomba vs Ecovacs Deebot
Deebot is a Chinese company that is offering some great robots for a fraction of the Roomba price. Some people want to support Roomba because this is an American company. But if the origin of the robot doesn't bother you let's compare Deebot and Roomba and see which is the best.
Both have many similarities. The upper end Roomba and Deebot do map the floors so as to urge the simplest clean Both use side brushes as well.
The Deebot does have more cleaning options, like using either direct suction or having the most brush do the work. The core brush is great for carpets while the suction is sweet for pet hairs. You'll worry less about the pet hairs getting tangled within the brushes which is usually a hassle for the Roomba.
Both have smart features to form everything much easier for you you'll schedule cleanings control them remotely.
The Deebot does have mopping features also allowing your hardwood floor to urge the simplest clean possible. Both are great robots but we're honestly impressed with what the Deebot has got to offer Compare models for yourself and see which comes out on top for you.
Roomba vs Neato
Neato has various robo vacuum in the market today, each with some unique features, a bit like the Roomba. Let's compare a number of the features of Roombas and Neatos and see which one comes out on top.
There are more sorts of Roombas than there are Neato vacuums which provides Roomba a touch of a whip hand unless you're someone who doesn't wish to choose from too many models.
The Neato vacuums use a square head this is often useful for cleaning angled areas and walls The Roomba works well with walls also but it seems like the Neato has the whip hand during this 
The Roomba is overall better with suction the simplest Roomba models around offer some incredible suction power but even those that are lower-end have some great filters to avoid any allergens The Roomba is additionally easier to wash. If something is tangled within the brush it's easy to get rid of. 
Both Neato and Roomba use smart features: from smart device connectivity to Alexa they need it Both have invisible barriers and mapping features which are available in higher models the upper model Roomba does have that self-emptying feature which is sort of convenient but it's only available for expensive models the longer term may change this.
The Neato line of Botvacs has some different power saving modes you'll put your vacuum in eco mode which sacrifices power for energy this is often good if you've got light messes you'll switch it to turbo mode if there's an outsized 
Both types have spot modes, which clean off particularly scruffy spots.
Both models have decent battery lives and that they do return to their charging station when the facility is low.
Roomba features a diverse series of models for each From models that are only a few hundred to over a grand there's a Roomba out there for everybody Neato's Botvac line focuses more on the mid-range aspect.
Both of them have their pros and cons Botvacs are better for walls but Roombas are better for each other a part of the house We recommend comparing some Botvacs to the Roombas on this list and seeing which is that the best fit you.
Roomba vs Shark
Shark has been a reputation in reasonably-priced vacuums for a short time. As of recently, they need dipped their toes within the robot vacuum world Let's take a glance at what you'll expect from a Shark robot dubbed the Ion in comparison to a Roomba.
The Roomba tends to bebigger and heavier than the Shark vacuum. Considering on who are using the vacuum, means this can be a good thing or a bad thing. A weightier Roomba robot is less likely to fall over and can clean more, but a lighter robot vacuum is convenient as well. 
The Shark does have more side brushes which are great for walls and angles.
The Shark Ion's filters tend to be a touch bit better having a HEPA rating or High Efficiency Particulate Air may be a powerful filter that removes 9997% or more of the particles A particle that's as low as 03 microns are going to be no match For reference a micron may be a millionth of a meter That's tiny! in fact higher-end Roombas tend to use HEPA filters.
Both use technology to adapt to your room but both use differing types The Ion has Smart Sensor Navigation while the Roomba tends to use iAdapt Your results may vary.
The Shark tends to possess a rather longer battery charge time charging for about an hour quite the Roomba If you've got an enormous house this will be frustrating.
The Shark robo-vac doesn't tell you when the tub is full while many Roomba models will indicate when your dustbin needs evacuating.
Both have similarities also using smart technology to permit for remote cleanings and scheduling.
Like the previous one there's no clear winner. Both models have their pros and cons. Your best bet is to seem at some Shark robots and compare them to the Roombas on this list likelihood is that you'll find one that works for you.
Roomba vs ILife
Ilife has entered the ring also offering robots that go toe-to-toe with Roomba What do Ilife models have? Let's take a glance.
ILife robots are even more budget friendly than the Roomba. The Roomba does have budget models but they're still $300 the ILife tends to travel less expensive with some models getting into the $100 range.
The Roomba uses more navigation technology, meaning it moves round the floor far better than the ILife can. The ILife does clean but it takes longer time for hitting more obstacles. 
ILife's robots tend to be smaller and lighter. As mentioned before this is often something that you simply may or might not want It all depends on your needs.
Both clean well but the Roomba does it better. The newer Roomba models have debris extractors and clean. Far more powerfully the ILife remains nothing to tease having quite little bit of power as well.
The ILife does have a far better battery life The higher-end models run two and a half hours. Even the cheaper models choose up to 70 minutes which is best than some models of a Roomba. Because the Roombas automatically recharge battery life might not be a priority for you but it's understandable if it is so. The ILife does recharge also but the V1 model doesn't.
The ILife does have a singular feature that the Roomba doesn't and that's a wet mopping mode Switch the dustbin with a cistern attach the cleaning cloth and therefore the ILife can wet mop the ground The V5 and X5 are a couple of models that provide. 
Both the ILife and therefore the Roomba use some powerful filters ensuring that you simply don't run into any allergens.
The ILife doesn't have a full bin indicator while newer Roombas do have.
In conclusion, the ILife models tend to be slightly inferior to the Roomba but do offer some advantages also. The very fact that there are more budget-friendly models available helps So does the wet mopping feature once more. We can't stress that you simply should compare models and make the choice.
How Does the Roomba Work?
The Roomba works in quite few alternative ways counting on which model you get. While we can't describe the precise science we will explain it in layman's terms. Let's check out how most models work: through randomness.
Random Cleaning
Most Roombas follow a way referred to as the random bounce this is often where the Roomba goes forward during a direction then moves in another direction once it hits an object. Additionally, the random bounce technique does employ some wall hugging also. Employing a side brush it'll stay across any walls in order that it cleans the edges of your home to the simplest of its ability.
Sensors
The Roomba isn't entirely hooked in to random movement. It also uses a sensor to assist it find its way across the space. This sensor typically sees objects and slows down so it doesn't get damaged or knock the thing over. The Roomba may have false positives on cliffs stopping for a cliff even if there isn't one, but that's better than your Roomba jumping off your stairs sort of a Lemming.
In addition, the Roomba features a sensor that detects dirt. this is often done through a piezoelectric sensor, which causes the Roomba to slowly clean the world and revolve around it a couple of times. For dirty spots in your home, this is often an awesome feature.
Another sensor is that the virtual wall, which uses infrared lights to inform the Roomba to not clean during a certain area. Again, this is often quite convenient feature.
Maps
More expensive models, like the s9+, can map your house. They'll use cameras to photograph your room, and this helps the Roomba build up a profile. They'll avoid areas they already cleaned, and have a cleaning style that's more such as you with a vacuum, which is sort of nice. It's a feature still in its infancy, but at some point, the Roomba may clean better than you will.
HARDWOOD FLOOR CLEANING TIPS
Here are some tips to assist you retain your hardwood floor clean and in pristine condition.
VACUUM OFTEN
If you allow dirt for too long on a hardwood floor, it'll be harder to wash and may stain the wood. It also can cause scratches on the ground when shoes and feet rub against it.
This is why you would like to wash a hardwood floor frequently – and gently.
With a robot vacuum frequent vacuuming is super–easy. Just set a daily schedule, and therefore the robot does all the remainder.
MOP
Vacuuming isn't enough to stay your hardwood floor clean, of course. Occasional mopping – about once every week – gets obviate stubborn dirt and mild stains.
To save you time and energy, consider buying a fanatical robotic mop like the Braava 380t or buy a 2-in-1 robotic vacuum and mop just like the iLife V8s.
To avoid damaging your hardwood floors, only use water or mild cleaners that are safe for a hardwood floor.
ADDITIONAL TIPS

Encourage relations to go away their shoes outside. Shoes create scuff marks and scratches on the ground. They also track during a lot of dirt.
If removing shoes isn't an option, put a mat at the entryway to capture any dirt on the shoes before it reaches the ground.
Clean up messes and spills immediately. Whether it's spilled water, bits of food or a pet's mess, clean it up immediately to avoid any damage. If the mess is solid like breadcrumbs or pet food, start the robot vacuum and set it to identify mode.
FAQs about Roomba for Hardwood Floors
Which Roomba is best for hardwood floors?
The iRobot Roomba 960 is the best for hardwood floors since it comes with dual rubber to work best on hardwood floors and other surfaces.
Does Roomba work on hardwood floors?
Roomba easily transitions from one floor to the other, including hardwood, tiles, and rugs, picking up all the dirt and allergens.
Which one is the best, Roomba 675 vs. 690?
According to the customer reviews, 690 is more famous even though 675 is less expensive. Also, 675 clean hardwood floors better collect 99% of all dirt and allergens than 97% of 690.
Should I buy Roomba 960 or 980?
It's all about performance. While both of these devices are excellent in tasks, the Roomba 980 wins the race. Roomba 980 cleans evens the carpets better than the Roomba 960.
Is Roomba 980 is better than Roomba 985?
The Roomba 980 has a second visual barrier while the 985 has one. That way, if you have more than one spot that needs cleaning, the 980 will work better.
Which one best, Roomba S5 vs. S6?
Roomba s5 is better than s6 as it has a mopping feature, which is ideal for hardwood floors. The Roomba s6 is perfect for carpet floors since they don't need mopping.
Are Roombas well worth the Money?
The answer goes to be subjective. There are different Roombas for various budgets and requirement and a few people may find more value out of it than others. Here are some ways in which a Roomba could also be worth it:
You have hard-to-reach spots. A Roomba cleans underneath furniture and corners that a standard vacuum might not be ready to reach.
You require daily maintenance. If you're someone who has pets, or kids who make messes, the Roomba could also be good for daily cleanings.
You have many hardwood floors. The Roomba does have deeper carpet cleaning, but just for the expensive models. The cheaper ones are more suitable for hardwood.
Here are some reasons why a Roomba might not be worthwhile.
If you're someone who has many carpets, and doesn't have the budget to afford a deeper cleaning model.
You have many cords on the bottom. The Roomba can make your life quite annoying if that's the case.
You're trying to find something to exchange your old vacuum altogether. Most Roombas aren't meant for a complete vacuum replacement, especially for larger debris.
Which models are on sale this Black Friday?
Deals are constantly appearing. For instance, immediately you'll get the 692, 675, i7 and i9 on sale. Our policy is to stay up with the varied discounts and use this page to match discounted models to other iRobot Roombas, so you'll decide if those are worth buying.
Do Roombas make noise?
Yes, they're a bit noisy. With any vacuum, the cheaper models are have louder motors, while the costlier models could also be quieter. However, they're all getting to make some noise. They're great for running when you're out of your house, so that's a plus. However, if you share a building with someone, you'll not want to run it at midnight!
Can you wash the filter if it gets dirty?
As iRobot's website says, the filters aren't designed to be washed. A filter are some things most want to urge the longest lifetime, as replacing them are often a bit annoying. With the Roomba filter, you'll tap it against a ashcan to get rid of any excess debris.
Some websites say you'll wash the filter, but you've got to form sure it's completely dry, alternatively you risk damaging your Roomba. If you would like to be safe, washing it's something you'll want to avoid.
How does the Roomba handle rugs and bumps?
Rugs are often the Roomba's worst enemy if you're employing a cheaper model. An inexpensive Roomba tends to possess a difficult time transitioning from hardwood to rugs, or to a different surface. it's going to get a touch tangled, or think the rug may be a cliff. Some Roombas go just fine on rugs, but it's something you'll want to check out. If your Roomba has a troublesome time, you'll want to get rid of the rug before cleaning.
As for other bumps, it all depends on what sort of Roomba you've got. Some Roombas handle them great, others are not so much.
How does the Roomba handle cords?
A Roomba tends to like to suck during a cord, and it finishes up knotted up within the brushes. Costlier models have a far better time avoiding the cords and learning, but an inexpensive model could also be your cords' worst enemy.
Conclusion
At times, you may find yourself working barefooted in the house. To some people the feeling is therapeutic.  That is the satisfaction of a clean house. However, there is no need to break your back while cleaning but invest in the best Roomba for hardwood floors to do the job with virtually no effort. Replace the broom, mop, and bucket with these gadgets that can work every day without any distractions.
Make your dream home come true.