Top 5 Best Roomba Vacuum Cleaner for Hardwood Floors
Efficient, Durable & Best Value
Hardwood floors are exquisite but delicate to care for. But with the best Roomba for hardwood floors, you won't have to worry about your unaccommodating daily cleaning routine, abrasions from the typical vacuum cleaners, or water damage from mopping.
All you will need is an excellent couch for relaxing as the Robo sweeper gets down and dirty to clean for you. It's about time to get one of these, right?
As with every need that arises, a thousand solutions flood the market. Therefore, we have sourced the best Roomba for hardwood floors with great customer reviews for you. Read on.
1. IRobot Roomba 981 Vacuum (Value Pack)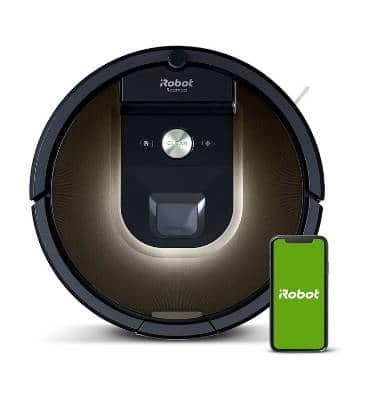 Daily cleaning has never been this easy. The premium 3 stage cleaning system clears all the grime, allergens, and even pet dander from your furry friend.
The IAdapt 2.0 Navigation with vSLAM technology feature lets the robot plan its surroundings to be sensibly clean in neat rows. The floor tracking sensors help the robot to navigate and clean your entire home without skipping any mess. Amazingly when the charge runs low, it recharges and resumes cleaning where it left off. What's more?
The Roomba 981 & Braava jet m6 robots grand duo works better together. The Imprint Link Technology allows the Braava jet m6 to start mopping once the Roomba 981 finishes vacuuming.
2. Roomba 690 Vacuuming Robot (Best Choice)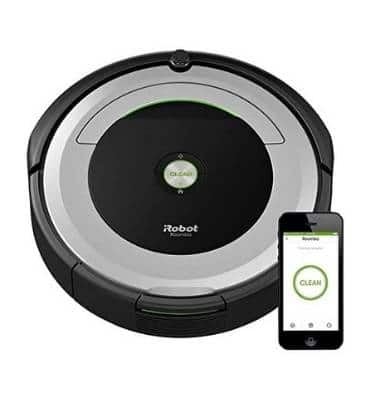 Dirt got nothing on you. The sleek and first-class design adds oomph to your home décor. You can schedule your home cleaning from your office, thanks to the iRobot Home App and smartphone access support.
Also, it has the original dirt sensors and the "Dual Mode Virtual Wall Barrier" that prevents it from slamming into walls while cleaning.
Moreover, this iRobot easily navigate under and around furniture safely without causing any damages with the help of the intelligent sensors guide. The 3 stage cleaning system allows even the toughest dirt to meets its match.
3. Roomba S9+ Robot Vacuum (Premium Choice)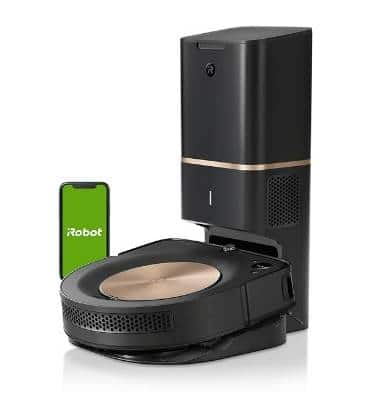 How clean can you clean? The Roomba s9+ is the best Roomba for hardwood floors. The smart mapping system allows the vacuum cleaner to fit into your home's layout and cleaning schedules while suggesting others.
The smart sensors allow it to detect any obstacles along the way. It traps and cleans 99% allergens and even pet dander from the stray cat that visits when you are not aware.
Also, this Roomba s9+ comes with a corner brush that cleans the hard-to-clean edges and corners and automatically empties itself. Sounds convenient, right?
Nevertheless, no need to worry about the battery life while cleaning as this iRobot will automatically recharge.
4. IRobot Roomba I6+ Robot Vacuum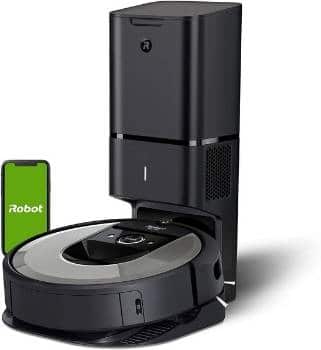 Nobody likes to take out the trash. The Clean Base Automatic Dirt Disposal with AllergenLock bags has four layers to trap 99% of allergen and then empties itself. Indeed, there's more room for your pet friend and this Roomba for hardwood.
Its powerful performance has Dual Multi-Surface Rubber Brushes that draw all the dirt and pet dander from the hardest to reach areas. Read on.
Moreover, the vSLAM navigation smartly draws your entire home and cleans every bit of it, navigating in neat rows. IRobot Home App allows you to change and upgrade your cleaning experience.
Finally, the dynamic duo of Roomba i6+ & Braava jet m6 vacuums and mops, respectively.
5. iRobot Roomba 980 Robot Vacuum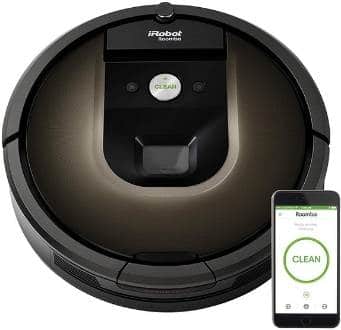 The most irritating thing of vacuuming is the prep work. If you need to avoid making thousands of little tiny passes with a clumsy push vacuum, you've got to take a position a big amount of your time learning and putting away toys, moving furniture and cleaning up clothes.
Unfortunately, many robot vacuums don't offer significant progresses during this regard. Their instruction manuals warn you to tidy beforehand if you don't want to urge stuck. They often accompany additional gizmos or aids to rope in terminally cluttered areas.
But iRobot Roomba is around long enough to understand that this is often not necessarily a time- or energy-saver. Roomba 980 has kept my house clean with minimal effort on my part. If you're willing to get out the cash, this is often the simplest robot vacuum you'll get.
It's a indication to the success of iRobot that its Roomba name has become interchangeable with "robot vacuum." It's easy to ascertain why after having your floors cleaned with the Roomba 960.  Most impressive, though, is its three-stage cleaning system that delivered the simplest results of any of the robot vacuums we tested.
It was very hard to select  favourite Roomba model because they're all so incredibly great. However, after watching all possible angles and features, it can be decided to keep Roomba 980 at very top position of the list for my best overall.
When compared to older series like the Roomba 600 series, this one has 5 times more power and suction for an enhanced dirt picking performance. Some people compare Roomba 960 vs 980 and Roomba 890 vs 960; each of the time I this you cannot avoid Roomba 980.
It knows the way to draw smart maps so it'll know a part of your home (one level). this is often possible thanks to its iAdapt 2.0 technology that's patented and has vSLAM navigation that actively catches thousands of accurate measurements each millisecond.
It has 3 stages of cleaning system which will discover and devour any pet hair or dust particles it founds.
The iRobot Roomba 960 model comes equipped with a dual rubber brush that's great for multiple surfaces which is capable to flex and work its way hardwood floors also as carpets.
Robot vacuums, especially pricey models like this, aren't for everybody. If you've got the time and energy to vacuum your house regularly, you actually don't need one. You'll still need do a deep clean every now and again, to unearth all the small crumb shadows under the junk that you simply refused to select up during the week.
But people can barely make it through the foremost basic tasks necessary to stop Child Protective Services from snatching away your offspring, then the Roomba 980 may be a very attractive alternative to hiring human help to wash your messes.
FAQs about Roomba for Hardwood Floors
Which Roomba is best for hardwood floors?
The iRobot Roomba 960 is the best for hardwood floors since it comes with dual rubber to work best on hardwood floors and other surfaces.
Does Roomba work on hardwood floors?
Roomba easily transitions from one floor to the other, including hardwood, tiles, and rugs, picking up all the dirt and allergens.
Which one is the best, Roomba 675 vs. 690?
According to the customer reviews, 690 is more famous even though 675 is less expensive. Also, 675 clean hardwood floors better collect 99% of all dirt and allergens than 97% of 690.
Should I buy Roomba 960 or 980?
It's all about performance. While both of these devices are excellent in tasks, the Roomba 980 wins the race. Roomba 980 cleans evens the carpets better than the Roomba 960.
Is Roomba 980 is better than Roomba 985?
The Roomba 980 has a second visual barrier while the 985 has one. That way, if you have more than one spot that needs cleaning, the 980 will work better.
Which one best, Roomba S5 vs. S6?
Roomba s5 is better than s6 as it has a mopping feature, which is ideal for hardwood floors. The Roomba s6 is perfect for carpet floors since they don't need mopping.
Conclusion
At times, you may find yourself working barefooted in the house. To some people the feeling is therapeutic.  That is the satisfaction of a clean house. However, there is no need to break your back while cleaning but invest in the best Roomba for hardwood floors to do the job with virtually no effort. Replace the broom, mop, and bucket with these gadgets that can work every day without any distractions.
Make your dream home come true.