Top 10 Best Robot Vacuum Review for Hardwood in 2022
Efficient, Durable and Best Value
Let's face it, everybody wants a clean house, but house chores can be a pain, but what to do? Well, there's a solution to everything, maybe, but the best home vacuum cleaner 2022 is the solution to this problem. You will not only save time and energy, but they will also do a thorough job.
Usually, they work with Apps connected to your smartphone. Just give a command, and then watch as they take it from there. Imagine enjoying your favorite movie as cleaning continues sounds pretty cool, right?
For the Best Robot Vacuum for Hardwood Floors 2022 in the market, read on.
1. iRobot Roomba 692 Robot Vacuum (Best Choice)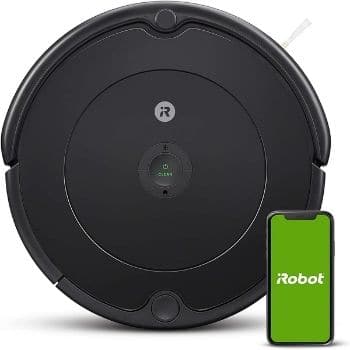 How often do you clean your home? With Google and Alexa (voice assistant) feature, you can schedule the iRobot to take over cleaning the house as you prefer just by your voice. The 3-stage cleaning system (looses, lifts, and suctions) assures you of a thorough job. What's more?
The dirt sensors and adaptive navigation features work together to make sure even the challenging and hard-to-reach dirt does not survive. Also, the auto-adjust cleaning head adapts effectively to clean different surfaces such as hardwoods and carpet.
Last but not least, the iRobot runs for 90 minutes before automatically recharging.
2. eufy BoostIQ RoboVac 30C Robot Vacuum Cleaner (Best Value)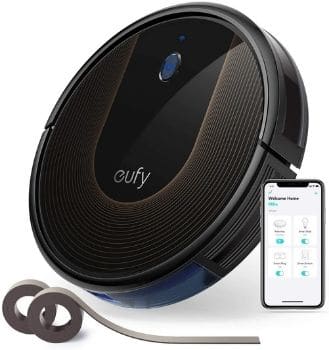 Do you want to nap and clean at the same time? The eufy has a brushless motor that offers a noiseless operation of 1500Pa of suction. The dual-hall sensors detect the boundary strips, allowing the robot vacuum to be obedient, and only clean the areas you want. In USA, it has become the customer choice for the best home vacuum cleaner. Read on.
 With the drop-sensing technology, you won't have to worry about the robovac falling off the stairs or edgy areas. The nine anti-collision infrared sensors alert the device of bumping into any blockades ahead cleaning without your assistance.
Moreover, the large wheels combined with the 3-stage cleaning system allow the robot to do superior cleaning even on the carpets and door ledges.
 Remarkably it cleans up to 100 minutes on a single charge.
3. Kyvol Cybovac E20 Robot Vacuum Cleaner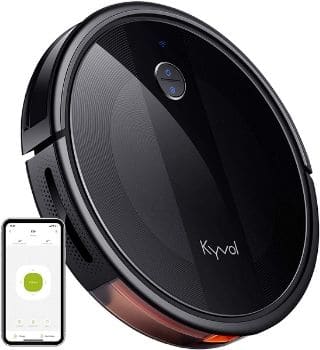 Carpet dirt has nothing on Kyvol Cybovac! It increases the suction power of 2000Pa to excellently clean carpets. The infrared sensors will avert it from dropping or bumping on something while cleaning. Also, in case you can't find it, the 'Find' button helps you trace it easily. What's more?
There's no need to worry about the low charge as it will automatically recharge itself after cleaning for up to 150 minutes. Besides, with the help of magnetic boundary strips, Kyvol Cybovac cleans only on set areas dumping the dirt in a large washable dust box.
4. Roborock S6 Robot Vacuum: Extra Long Battery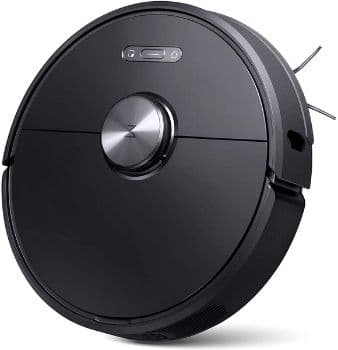 This voice-controlled vacuum robot is ideal if you have areas of your home that get more dirty than others. It allows you to determine which parts are cleaned, which areas need to be processed, as well as virtual exclusion zones and barriers, all of which you configure from the app.
Another remarkable feature is the motion sensors that automatically slow down the vacuum before it falls into an obstacle on its way. And if you have a boring place on your carpet or wooden floor, you can use the stain cleaning option that draws a circle around your current location so you know how to spend more time in the designated area. To know further you can google for the best robot vacuum cleaner reviews.
Its suction power is strong enough to lift the batteries, which is strong. It also works like a mop. Connect the mop unit and adjust the water level. But the feature highlighted here is the run time: This creature lasts 180 minutes on a single charge.
5. Neato Robotics D7 Robot Vacuum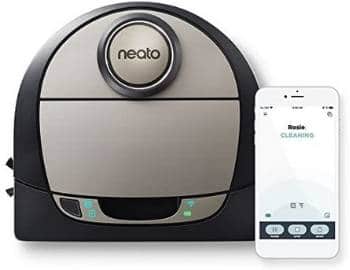 You just love to have a kitten or pup; If your living room looks like a kennel, invest in that void. It's the nemesis of animal hair. Works equally well on carpets, tiles or hardwoods. Unlike other vacuum cleaners, it also cleans on straight lines, so it has fewer lost points. This robot vacuum cleaner is also ideal for multi-storey houses, as it can store up to three cleaning plans. It has a run time of 120 minutes. It will not be any exaggeration if one says Neato D7 will be best robot vacuum for hardwood floors in 2022.
The most evident difference in the Neato robot vacuum cleaner is its shape. The special "D" design is specially designed for cleaning corners – it can effectively sweep hard-to-reach corners where dust and dirt often accumulate. Designed for any type of floor, Neato also uses a brush that is 70% larger than most robot vacuum cleaners to ensure that the hairs are collected from pets and large rabbits. You can easily control and integrate this smart vacuum cleaner into your home with an Amazon, Alexa or Google Home device, and since each home has high traffic areas that require more attention, the Neato app allows you to designate and plan specific areas to clean at certain times.
6. Ecovacs Deebot OZMO 950 Robot Vacuum Cleaner for Hardwood floor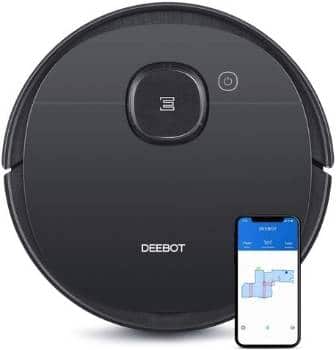 Ecovacs is known for the reasonable but high-tech robot vacuum cleaners, recently released with a new robot broom and a 2-in-1 suction device. His name is Ecovacs Deebot OZMO 950, and it is claims to be the most powerful Deebot to date.
The Ecovacs Deebot OZMO 950 comes with four side brushes; two for immediate installation and two emergency, a pre-installed main brush, an immediate suction option that you will change for most brushes, a water tank, a cleaning cloth plate, a washable and reusable microfiber cloth, cloths disposable, and two of the effective and washable filtration systems.
The OZMO 950 features Smart Navi 3.0, which uses lasers to help you find your way through your home. The 950 is fast. Travel faster than any vacuum robot or mop you've ever seen. It is effective on its automatic cleaning path, first cleaning the edges, then turning over and cleaning the center of the floor according to a pattern "S". This make Eovacs OZMO 950 the best hardwood floor cleaning robot.
Speaking of cartography, the mapping capabilities of the OZMO 950 are exceptional. This is a multi-storey mapping for single-storey houses, and you can record up to three different floor maps. You can customize exactly how and once you want the robot to clean your home by creating schedules or choosing specific areas of your home where you want the Deebot to wash. Like many other Deebot models, the OZMO 950 speaks. He tells me when he's charging, when he starts cleaning, or when he saves the card. It is compatible with Google Home and Alexa, so I can control the robot with my voice.
The laser guided navigation system of the OZMO 950, including his general knowledge of himself and his environment, creates a tool that makes life easier for the user. Of course, the unit is advanced in terms of power, mapping, navigation and functionality. However, customers have come to believe that Ecovacs is a brand that produces affordable robotic vacuum cleaners that also have these high level features.
7. Samsung POWERbot R7065 Hardwood Floor Cleaning Robot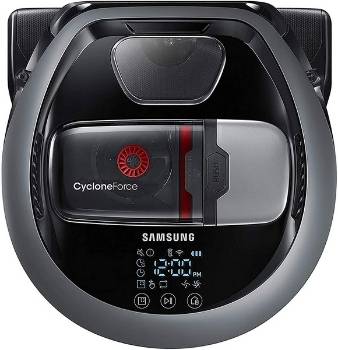 A robot vacuum's definition of "smart" is essentially to scrub pet hair off of your rugs without falling down the steps during its cleaning cycle. The PowerBot R7065 from Samsung allows you to settle on when and where you would like the unit to wash. Let's have a glance at this smart device and see if it's a number of these critical imperfections also. It's the best cordless vacuum for hardwood floors.
The best option for cleaning even the foremost inaccessible areas, this PowerBot R7065 comes with a built-in rubber blade that extends bent clean underneath furniture and hard-to-reach corners, so you'll make certain every inch of your floor is left spick-and-span.
This robot vacuum features a powerful and efficient cleaning ability, wheels with grip to travel around hurdles, and really intelligent mapping system.
This robot vacuum from Samsung has the power to sense and transition between hardwood and carpet floors. The installation is additionally pretty easy and you'll get an edge thereon remotely via a Wi-Fi connection.
You can configure it to vacuum on a ready schedule or at intervals during one day. Turbo is clearly the foremost reliable, but it's also the noisiest. On normal mode, you'll watch TV without you getting interrupted. In Turbo mode this robot vacuum may be a cleaning monster. we've an upscale and really effective upright vacuum that's used frequently, and despite this, the Samsung R7065 was ready to pull a tremendous amount of dirt and dog hair from the carpets and hardwood floors.
8. Shark IQ Robot Vacuum RV1001 for hardwood floors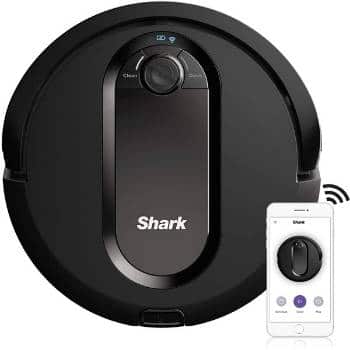 The Shark IQ Vacuum RV1001 model, meaning it comes with the self-emptying base also because the usual WiFi and home mapping of the IQ line. it's a reasonable option for top-end specs and cutting-edge smarts. Whenever we talk about robotic floor cleaners hardwood floors, Shark IQ RV1001 comes in.
Performance with autonomy is such that this is a real replacement for your usual vacuum. the value point beats the equivalent spaced model by iRobot yet offers most of an equivalent feature.
The big feature that creates this stand out from most robot vacuums is that the self-emptying which gets you a month of cleaning without you wanting to empty anything. The self-cleaning brushroll also plays a neighborhood here.
The battery life is decent and therefore the scheduling app is sweet enough to permit smart mapping controls for room specific cleaning. This mapping also means more efficient smart routing for a much better clean with less time wasted.
You can control this robot vacuum using your voice with Alexa and Google Assistant as well. This can also talk back, letting you recognize if it runs into any problems and needs help.
The robot vacuum itself is additionally self-cleaning because of an ingenious brushroll. This is often ready to avoid hair tangle by effectively cleaning itself. That means any long hair or pet hair is cleared away so you do not need to worry about maintenance of the bot either. The truth isn't quite as magical because the claim but it's better than most, meaning far less maintenance a minimum of.
The robot not only features a brush roll but also dual corner brushes to form sure everything is sucked into its path and up into the dustbin. That 90-minute battery life keeps the bot going for lots of your time to hide most spaces and it will recharge when needed anyway.
The Shark IQ may be a robot vacuum that not only offers smart mapping for voice controlled room specific cleaning, but it is also more autonomous than most. The self-emptying combined with self-cleaning bring a real robot vacuum that you simply can leave on a schedule for a month before you would like to lift a finger.
9. Ilife A9 Robot Vacuum carpet and hardwood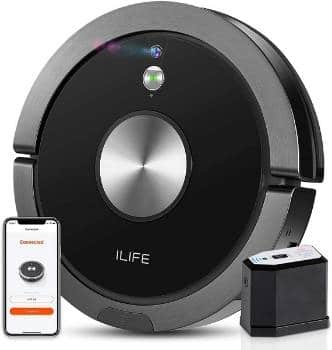 Ilife A9 vacuum excellence stats from its design. Breaking the monochromatic structure like most robot vacuums, the A9 mixes things up with gunmetal gray trim around its circumference, and a silver aluminum power switch and accent circle on its black top. iLife refers to that as a "classic vinyl record exterior".
In case you desire a robot vacuum with mapping and Wi-Fi functionality, then you need to prefer the Ilife A9 Vacuum. The built-in smart navigation system present within the A9 model offers higher efficiency. Moreover, you'll easily operate this A9 Robot Vacuum with the help of the Wi-Fi connection. you'll connect Ilife A9 together with your smart mobile and operate it using the Ilife app.
The dirt itself is speeded up by a pair of spinning side brushes and a threaded rubber rolling brush. A bristle rolling brush is additionally included and may be swapped in if you're only vacuuming carpet. Cameras are less costly than the lasers that another robot vacuums use, but some say that lasers are more accurate when it involves mapping rooms.During these jobs, it'll automatically detect areas it's missed and return over them.
In Spot mode, it'll clean a neighborhood of concentrated dirt during a spiral pattern. In Edge mode comes with the A9 navigates until it recognizes a wall, then cleans along its edges.
More importantly, it did an incredible job of getting all the dust, pet hair, and food crumbs off my floor. You rarely had to empty the bin quite once during cleaning.

Ilife A9 didn't require me to babysit while it worked, and it did an excellent job cleaning my floors and carpet. You can't invite far more from a robot vacuum except maybe an accommodating price, and at but $300 the A9 are often said to possess that also.
10. Tesvor S6 Smart Vacuum Review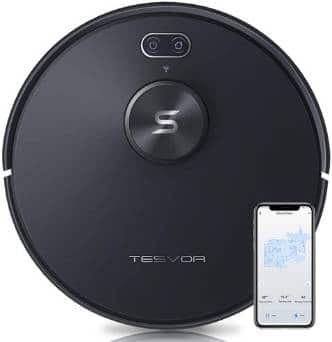 The best devices—some costing over $1,000—don't just eat up dirt, they provide a spread of smart features like app support, voice control and room-scanning capabilities. The less-great may have its suction, smaller dust bins and poor battery life.
For a tag of around $300, the Tesvor S6 is one among the recent vacuums from a Chinese brand that lacks the name recognition of rivals like Roomba but offers premium features which includes room-mapping, app control and laser navigation.
The Tesvor S6 robot vacuum offers incomparable value through its efficient and varied cleaning ability, power and durability. It definitely gives those other robot vacuums something to stress about.
While it's unlikely to completely replace your traditional cleaning setup, it could prevent some effort during this new normal of 2022, when COVID-19 lockdowns mean there is a real chance you'll be spending longer indoors than ever before. For anyone not familiar the technology, robot vacuums are typically circular-bodied smart devices that autonomously sweep up the floors of your house or apartment.
The overall performance proved solid on both carpets and kitchen vinyl flooring, as long as expectations are in restraint. That's because at full power the S6 will offer around one hour and half-hour total cleaning time, but taking nearly triple time that to recharge.
Once connected, however, it worked fine, opening up the choices to line dedicated room boundaries or link to 3rd party services, including Alexa and Google Home. Luckily, most of app controls also are mirrored on a foreign that comes within the box. For short bursts of autonomous cleaning, its suction modes, dust bin and overall size were all quite adequate—and its mapping technology worked surprisingly well.
What is the best robot vacuum for hardwood floors in 2022?
Considering popularity, performance and durability, the iRobot Roomba 692 Robot Vacuum wins the best robot vacuum awards in 2022.
Actually best robot vacuum is just what we can say just one name. Because it deponents on many factors like your budget, purpose, noise issue, how much area to cover, how long the robot vacuum will run, how low height the vacuum cleaner will needed and any brand choice.
So, in case of hardwood floors it will better to stick with the prominent brand like iRobot (Roomba 980, Roomba 890, Roomba 960, Roomba S9+), Eufy (RoboVac 30c, RoboVac 11, RoboVac L70), Neato (Robotics D4, D7) if budget is not an issue.
On the other hand, if you are looking to solve the basic purpose; just go for the Bobweep, ilife or Tesver brand; those are also very worthy but less costly because of the brand.
Robot vacuum buying guide for hardwood: What you need to know
You don't know where to start your search for a robot vacuum cleaner? Our robot vacuum cleaner buying guide will help you decide what to look for.
Having trouble deciding which robot vacuum cleaner to buy? Let our robot vacuum buying guide help. There are many robot vacuum cleaners available at a variety of prices that can help you in the tedious task of cleaning your floors.
Whether you have carpet, hardwood or a pet pen, there is a robot vacuum cleaner that meets your needs. These machines also include a lot of additional features, some of which make them almost as effective in cleaning as a standard vertical vacuum cleaner. And if returning home in impeccable housing is your main concern, you can choose an empty robot with Wi-Fi connectivity.
We have compiled the following guide for those of you who are stuck on how to start buying a robot vacuum cleaner. And if you want the short end, here are some tips to get started. Quick tips for buying a robot vacuum cleaner
Quick tips for buying a robot vacuum
Start by graphing your house. Is there hardwood or carpet? does one have pets, and does your cat kick her litter out of the box? These are factors to think about when shopping around for a robot vacuum for the firsttime.
Choose your budget. You'll spend less than$200 or over $500. However, be prepared to attempt without some popular features in models within the lower cost tiers — like tractioned brush rollers and Wi-Fi connectivity.
Want an app with that? Many robot vacuum models use companion apps that make it easier to manage and schedule the robot vacuum. Some models can even map it out where they've cleaned.
Some models clean superior than others. Not all robot vacuums clean a similar. Some are better at finding out pet hair from carpets, while others might perform better on hardwood or vinyl.
Battery life could be a factor to think about here, too. Usually, the larger the battery, the better the cleaning job, especially if you've got a bigger home. But it's OK if you'd rather save money by choosing a model that needs to park itself and recharge within the middle of a session.
The factors that are considered when comparing robot vacuums for hardwood floors
DESIGN AND SIZE
Most robot vacuum cleaners have a similar shape. Neato robot vacs are an exception.
They have a novel D-shape which allows the vacuum to induce really on the brink of the wall for better edge cleaning.
Other than the Neato robots, you don't have the other options when it involves shaping. most the opposite brands are round.
What many robots vary in is height. And it makes a big difference in cleaning ability.
Most robots range between 3 and 4 inches on average height. But very low height robo vacuum (which is less than 3.5") can easily navigate other close-fitting areas and under furniture where dirt, clay and pet hair may be to amass undetected.
Thicker robot vacuums will leave some areas uncleaned because those can't access them.
If most of your furniture pieces have a clearance of a minimum of 4 inches, you don't got to worry much about the peak of the robot vacuum. Most can clear that height.
But if you've got several brand with very low clearance, search for low height models like Roombas (3.6"), iLife A9 (3") and ECOVACS DEEBOT Ozmo (3.7")
BRUSHES
Next, check the robot vacuum's brush system.
Most robotic vacuums have 2-3 brushes.
There's the most roller brush which spans almost the whole width of the robot. It picks up dirt & pet hair and lifts it towards the suction port. Then there are the side brushes which sweep in dust and pet hair from the edges. Irobot Roomba models have one side brush while most other robotic vacuums have two.
Some robot vacuums just like the iLife V8s lack the roller brush. this is often not a serious issue on hardwood floors (and other hard floors) but can seriously limit cleaning ability on a rug or carpet.
If you've got pets, confirm the brushes don't tangle up as they collect and sweep hair.
SUCTION POWER
This is not an enormous issue with most robot vacuums. Even a budget ones have enough suction power to wash a hardwood floor. That being said, a strong vacuum will produce better results, especially if your floor gets really dirty or if you've got some areas with rugs.
But if your floor doesn't get very dirty, you don't got to spend tons of cash on a high-suction robot vacuum. a less expensive one will do exactly fine.
NAVIGATION
If you watch a robot vacuum cleaning, you'll easily tell the difference between those with intelligent navigation and people that are simply moving about until the battery runs out.
Luckily, even the 'dumb' robots usually clean even as well. It's just that they take longer and may only clean one room at a time.
What you would like to observe out for are robots that bang hard into furniture, leaving unsightly marks and damaging delicate items.
Look for a robot vacuum with an honest obstacle detection system.
If you've got an outsized home and wish a robot vacuum which will clean multiple rooms at a go, you'll need to pay more for a robot with intelligent navigation.
Models just like the Roomba 960 can map an area and choose the simplest cleaning pattern. They recognise where they've already cleaned, and which areas are remaining yet.
They can also vacuum a whole level, moving from room to room.
BATTERY LIFE & AUTO-RECHARGE
Cheaper robot vacuums have a typical battery lifetime of around 90 minutes. this is often enough to wash one or two average-size rooms. Pricier robots which will clean a whole level usually have a extended battery lifetime of up to 120 minutes.
If you've got a little to mid-size home, a robot with a 90-minute runtime is enough. For larger homes, invest during a longer-running robot vacuum.
In addition to battery life checking, need to ensure the robot has an auto-recharge feature. this is often where the vacuum automatically goes back to the docking station when the battery gets low.
If you're buying a costlier model, check whether it also has auto-resume. this is often where the vacuum automatically resumes cleaning where it left off before it went back to the docking station to recharge.
SCHEDULING
This is a typical feature in most robot vacuum cleaners. It allows you to line the vacuum to start out cleaning automatically at a selected time and day.
But there is a disparity in scheduling flexibility between cheaper and premium robot vacuums.
From the low-cost models like Tesvor S6, you'll only set a selected time when the robot will start a cleaning cycle a day.
Many don't even allow you to unselect some days, meaning you've got to completely close up schedule on those days you don't want it to wash. In pricier models, you've got more flexibility in setting the schedule (usually with an app). You can select just some days and even set a special time for every day.
Generally, however, this is often not an enormous issue. Most budget robot vacuum owners find the essential scheduling feature to be ok.
But if you would like more flexibility (e.g., if you've got a really busy schedule), spring for something costlier with better scheduling.
WI-FI FEATURES
Finally, decide whether you would like a robot vacuum with Wi-Fi connection features.
A Wi-Fi-connected vacuum allows you to regulate and monitor the robot once you are faraway from home employing a smartphone app.
In most cases, you'll also link the robot to a sensible assistant like Alexa and control it via voice commands employing a smart speaker.
Wi-Fi features are beneficial if:
1. You have already got a functional home and need a robot vacuum; you'll integrate into your home or lobby or any other space.
2. You want to be clean the house at any time even once you are at work or on vacation i.e. out of area.
3. You love the accessibility of using voice commands
How large is your house?

First: Consider how large your home is before you begin browsing internet. Some robot vacuums, just like the iLife V3s Pro, work better in small environments like apartments and townhomes, while models just like the iRobot Roomba S9 are better-suited for spaces of up to 2,000 sq.ft. with multiple rooms or floors. Your pick will mainly depend upon the size of your dwelling.
You'll also want to work out how much room you've got under the furniture for the robot vacuum to undergo . At slightly below 3 inches tall, the Eufy Robovac 11s, for instance , has a neater time navigating through tight spaces.
Why do you need a robot vacuum?
We have robots doing it all, this is the future: Cars that drive themselves, drones that navigate the sky and robot vacuums that find their way around furniture. A robot home vacuum cleaner keeps things relatively clean and saves you the effort of scheduling a maid service or nagging your kids to do their chores.
A robot vacuum doesn't replace an upright vacuum or a deep house cleaning, but it does help acquire things like food crumbs, cat litter, hair of all kinds , dust bunnies and each other dense particle we leave behind on the floors when we're living during a house. They're fitted to office spaces, too, because the last item you wish to stress about when you're on deadline is why the floor is covered in sprinkles. If you're concerned about allergies or dust, you'll also find models with built-in HEPA filters.
Do you have hardwood or carpets?

Most robot vacuum models can easily handle cleaning both carpets and hardwood, but some are better at cleaning one or the opposite . High end robot vacuums like the Roomba S9 can adjust rapid surface changes by ramping up power whenever carpet is detected, then throttling backtrack when it senses hardwood. Rugs should also factor into your buying decision. you would possibly find that lower-end models will get trapped in tassels.
If you're just trying to find hardwood maintenance, you'll go as cheap because the $159 iLife V3s Pro, because it does alright with cleaning pet hair off hardwood floors. If your floors are vinyl and tile, and you're hoping for a few mopping help, there's the iRobot Braava Jet, which is specifically made for wetting and washing floors. We've tried robot vacuums which will both vacuum and mop, but found they are doing neither task particularly well.
Do you have cats or dogs?
Luckily, many companies make robot vacuums that are fitted to cleaning up after pets. Models just like the iLife V3s Pro and therefore the Roomba S9 scored the best in our robot vacuum lab tests, picking up nearly all pet hair on both hardwood and carpeting. And if you suffer from allergies, these robot vacuums for hardwood have HEPA filters to assist eliminate allergens that are hanging within the air.
Of course, the downside to having a robot vacuum pack up after your pets is that you're going to even have to form sure you propose for frequent maintenance. Things just like the roller brush, side brushes and HEPA filters will eventually wear out and wish replacing. And although you only need a robot vacuum to assist with kitties that scoot their litter over the side, you will need to recollect to empty out the dustbin frequently in order that it doesn't overflow. Search for dustbins larger than 600 milliliters if you simply want to stress about emptying it out every few cleanings approximately. Smaller bins are more likely to refill after only one cleaning.
Do you need a 'Smart' robot vacuum?
The internet may be a glorious thing that helps keep us connected, not only to people but also to our appliances. once you check out various Roomba models or the Shark Ion R85, for instance, you will see that all of them offer companion app control. Many of the app feature sets differ, however, which suggests they often deliver different user experiences. If a robot vacuum has app capabilities, it often means it also offers Amazon Alexa or Google Assistant integration. If it does, you'll enable its voice-command capabilities by saying, "Start cleaning!" and therefore the vacuum will get going.
If you do not mind avoiding Wi-Fi connectivity in favor of saving some cash, many entry-level robot vacuums accompany remote controls that run on alkaline batteries and are simple to use. Even the app-connected Samsung Powerbot R7070 comes with a further remote within the box, just in case you do not want to bother with fixing an app.
Battery life isn't big concern, unless you've got big house
It only matters to some extent. Most of the robot vacuums we tested lasted throughout a whole cleaning session without having a charge.
Usually, a robot vacuum can sanitary for up to an hour and a half, with some high-end models lasting a full two hours. Some vacuums will even navigate back to their base stations, get charged to finish cleaning to urge the deed done.
Settle on a budget
Robot vacuums are available altogether kinds of shapes and sizes and at varying prices. like most things in life, the more you spend, the more features you get. for instance, higher-end robot vacuums will have better mapping capabilities, which suggests they will clean your house more quickly.
However, we've found robot vacuums but $200 that clean even as well, if not better, than models that cost three to fourfold the maximum amount.
HARDWOOD FLOOR CLEANING TIPS
Here are some tips to assist you retain your hardwood floor clean and in pristine condition.
VACUUM OFTEN
If you allow dirt for too long on a hardwood floor, it'll be harder to wash and may stain the wood. It also can cause scratches on the ground when shoes and feet rub against it.
This is why you would like to wash a hardwood floor frequently – and gently.
With a robot vacuum, frequent vacuuming is super–easy. Just set a daily schedule, and therefore the robot does all the remainder.
MOP
Vacuuming isn't enough to stay your hardwood floor clean, of course. Occasional mopping – about once every week – gets obviate stubborn dirt and mild stains.
To save you time and energy , consider buying a fanatical robotic mop like the Braava 380t or buy a 2-in-1 robotic vacuum and mop just like the iLife V8s.
To avoid damaging your hardwood floors, only use water or mild cleaners that are safe for a hardwood floor.
IS A ROBOT VACUUM CLEANER RIGHT FOR MY HOME?
From numerous choices available and different models to decide on from, it may be a challenge to search out the simplest robotic vacuum for your home. It's going to even be hard to work out if it's something you really got to have.
STEP ONE: STUDY
Before choosing a robotic vacuum cleaner, you need to look around the home like how much space to cover and see the type of flooring you need to be vacuumed regularly. Many robot vacuums will work on a spread of flooring types, including both carpet and hardwood.
STEP TWO: BUDGET PLAN
Now, you would like to require a moment to consider your budget. Robotic vacuum cleaners are often a major investment counting on the model you decide on, so how much are you willing to spend on this convenience? The less you pay, the less premium features you'll find.
STEP THREE: APP or Voice command
Many robot vacuum models utilize apps now to form it much easier to manage and even schedule the cleaning times for your vacuum. Now-s-days there are tons of robot vacuum those are easily connected by Alexa, Bixby, Siri voice command. is that this a feature you are feeling you'll use often? Some robot vacuums also are advanced enough to map a cleaning pattern.
STEP FOUR: MODEL COMPARISON
Some models are definitely getting to pale as compared to others, so it's always an honest idea to match different models' side by side to ascertain what you're buying. Hopefully, our list above may be a good start line with a good view of your possibilities. When comparing, confirm the robot vacuum is in a position to overcome your specific flooring types.
STEP FIVE: BATTERY
Finally, battery life may be a huge consideration also. The larger the battery, the longer and better cleaning job your robot vacuum will provide you with. This is often ideal if you've got a bigger home which will take longer to vacuum. However, you'll save a touch money by choosing a model with a smaller battery.
HARDWOOD FLOORING AND ROBOT VACUUM FAQs
WHY DO HARDWOOD FLOORS RELENTLESSLY ACCUMULATE DUST EACH DAY IN THE YEAR ROUND?
Usually, when it comes time to wash our hardwood surfaces within the home, we reach for a brush to try to the work. However, sweeping with a brush can just fire up dust and debris and send it flying around.
This is how the dust begins to accumulate more and more on the ground. it's nowhere else to travel and instead continually gets kicked copy into the air where it'll settle back onto the ground.
WHERE DOES ALL THE DUST COME FROM?
Dust mites are an enormous source of where this dust is coming from. this is often very true during a home with pets. The dust mites also can trigger allergies also when not attended to.
The HVAC system within the house is another source of dust because we don't always get our ductwork cleaned out as often as we should always.
CAN THE ROBOT VACUUM CLEAN HARDWOOD FLOORS BETTER THAN A BROOM?
It really comes right down to two things: suction and filtration. Robot vacuums are ready to devour larger and smaller debris without sending them flying round the home as you discover with sweeping. you furthermore may won't see any dust lines being left behind once you use a robot vacuum over a brush.
Suction is additionally important all along with the filter. If it's getting sucked up and doesn't have a filter to trap it, then it just releases back to the air to choose your hardwood flooring.
DO ROBO VACUUMS ALWAYS COME WITH A BRUSHROLL?
Robot vacuums typically do come equipped with a Brushroll because many brands see them as a typical feature that's included. Conversely, you may find a more basic model that lacks all the components which are available the higher-end models, and that they might not come equipped with a brushroll or other accessories.
WILL A ROBOT VACUUM DIRT-FREE THE BASEBOARDS?
You don't want the baseboards looking dirty when the hardwood flooring is looking its best, right? Having to urge down on your hands and knees to wash the baseboards are often annoying, frustrating, and time-consuming.
This is why some robot vacuums accompany spinning propeller brushes which will effectively remove the dirt and debris from the baseboards because it vacuums. Some even come equipped with side brushes to urge the work done also.
WILL THE WHEELS OF A VACUUM SCRATCH THE HARDWOOD FLOORING?
Robot vacuums have just one caster wheel alongside a group of driving wheels. The caster is smooth and spins smoothly, so it's ready to make those sharp turns. counting on the robot vacuum model you've got , the driving wheels could also be even as smooth, or they'll be rubberized, in order that they won't scratch the hardwood floors.
HOW OFTEN SHOULD I USE MY ROBOT VACUUM CLEANER ON MY HARDWOOD FLOORS?
Regularly cleaning and maintaining your hardwood floors may be a great way to increase its longevity and keep it looking its best. So, thereupon in mind, you would like to remain on top of any dust and dirt which will be accumulating on your floors.
Many robot vacuum cleaner models allow you to customize the cleaning schedule; We think those will work best for you. Therefore, you'll run your robot vacuum daily or maybe on certain days of the week. Need a fast spot clean? It can do this for you also.
Is a Roomba good for hardwood floors?
In USA, most selling vacuum is Roomba for hardwood floor. Though there are Ecovacs, Shark, Roborock, Neato brands are also selling a lot. But iRobot Roomba is selling the most offering it's a series of product like Roomba 960, Roomba 690, Roomba 761, Roomba i7+, Roomba E5 for hardwood floors as well as deep carpeting.
Do robot vacuums scratch wood floors?
Robotic vacuums are designed to dart-free wooden floors without scratching them. However, if grains of sand or bits of plastic grind to a halt to the wheels of the robotic vacuum, it could scratch the wooden floor because it moves across the space.
Are robot vacuums worth it?
A robot vacuum is a great addition to your home and provides you with more time to do the things you enjoy most – even some are get set for recharge itself without taking your time, most of them are voice controlled.
Robot vacuums are compact and cannot take up an excessive amount of additional space in your home and are an excellent addition to your home cleaning arsenal.