Top 10 Best PoE Security Camera System
Better Resolution, Well Engineered & Best Value
Security starts with you; hence, you should look for your home and business's best PoE security camera system. Losing money and things worth a lot of money is painful and even worse if you did not have any insurance, thus catching the burglars.
Security cameras are your best shot at solving burglary on your premises. First, they are a deterrent; any thief who notices a camera will opt to drop the mission. Besides, who wants to get caught? Secondly, they provide raw footage of crime for investigation. Chances of getting your stuff back are high once you involve the police with evidence (crossed-fingers). Moreover, you can call the police when the crime is in action and have them rush to catch the thieves. Read on.
The Power over Ethernet (PoE) security cameras are the most reliable in many ways. Since your safety is our concern, we evaluated the best PoE cameras based on the following;
High definition
Waterproof
Wide viewing angle
Night vision
Audio recording
Motion alerts
Remote access
Working temperature
The above features are the most crucial in determining a great choice of PoE cameras.
Let's begin by finding you the best security camera for your property.
1. Reolink 5MP PoE Home Security Camera System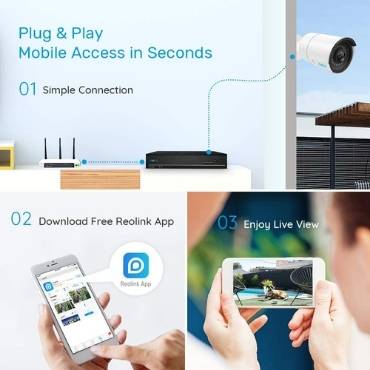 Overview: Reolink is a famous manufacturer of security cameras. This manufacturer has an excellent reputation for saving homes and businesses from burglary and other awful acts.
Night vision, remote access with playback, and stale quality video-the thieves have nowhere to run!
Caught in the act! The spectacular HD display of 2560×1920 pixel resolution allows you to see every image as it is. No chances for blurry or shaky effect. Besides, if you are planning to catch a thief, make sure you see his face.
The eight cameras run at the same time, allowing you a Reolink 4k ultra HD 24/7 recording. There's no chance of leaving out anything. What's more?
The easy PoE set-up gives you no room for migraines as you install. This is because; the power, video, and audio run through a single cable without an additional cable. Saves you money!
The remote access allows users to access footage via their smartphones anywhere, thanks to the Reolink App. This way, you can watch live streams or even playbacks at your comfort. Also, it comes with an SD storage slot so you can save your footage for future reference and evidence. Sounds pretty smart, huh?
The smart motion sensors of the Reolink PoE NVR detect any motion triggering an alert in case of any danger. If there's any motion detected, the cameras will send alert emails and notifications to your devices informing you of risk. Even the tip-toes have no chance of getting away unheard.
Last but not least, the cameras have attractive white aluminum covers, with a powder-coated polish that's also weather-resistant. Reolink 16 channels can function in any weather conditions. Too bad for the rainy thieves!
2. Lorex 4K Ultra HD PoE Security System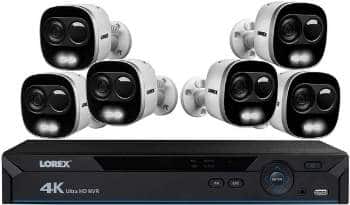 Overview: the Lorex 4K offers complete coverage with a difference. Color night visions, 2-way talk, deterrence feature, and six cameras are the best way to identify the thieves' element.
Enjoy the experience of high-quality surveillance with the Lorex cameras. The 4k bullet cameras come with a color night vision and can capture as far as 130ft. They can be able to record every step of the thief from the far end. (Just like in the movies)
Suppose you live in a large compound; no need to panic. The Lorex 4k security cameras have an exact resolution and ultra-wide field of view of 128 degrees. You can see your entire premises just from your screen without the need of taking rounds. Read on.
The 2-way talk is a smart feature that allows you to talk directly with anyone on your premises. This will enable you to get verification of visitors before you allow them access to your compound. How cool is that?
It has a bright LED spotlight, motion sensors, and a remote alarm for active deterrence, making it a valuable asset to your property. Remarkably, it has a 2TB storage capacity, big enough to store footage of as long as two years. No need to stress about any monthly fees or threats of security breaches.
Lastly, the Lorex security cameras are weather-proof. You don't have to panic about any harsh weather conditions at any time. Stay connected anywhere with the Lorex Cloud app allowing you quality access to live and recorded footages.
3. Amcrest 4K Security Camera System (4K 8CH PoE NVR)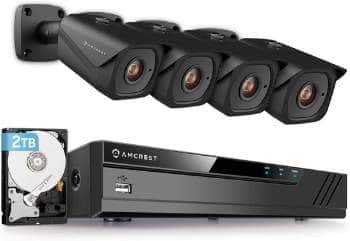 Overview: experience a stress-free holiday away from home with the assurance of Amcrest 4K Security Camera System. HD footage, plug and play set-up, 2TB hard drive, and speedy connection- this is the best deal for your premises anytime you feel like traveling.
Nothing brings peace of mind like not worrying about your property's security when you are away for an extended vacation- thanks to the Amcrest 4K Security Camera System.
You get a mechanical pan and tilt ability in a design that delivers a detailed, high-definition image with excellent color quality and clear night vision. What's more?
You can view live and recorded video on a mobile Android or iOS device and a PC by merely logging into Amcrest's site.
Also, the sufficient storage of 2TB on the pre-installed hard drive allows you to save much footage for as long as possible with the compression technology. The set-up is effortless and comes with extras such as a USB mouse, user manual, and network cable.
4. ZOSI 5MP H.265+ Poe Security Camera Systems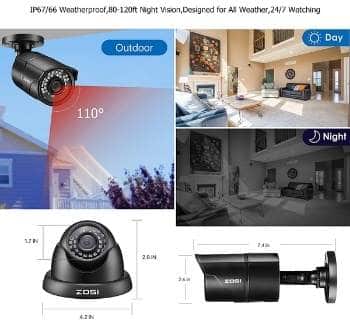 Overview: Enjoy a worry-free life, whether online or offline with the Zosi security cameras. It comes with super HD 5MP resolution, weather-resistant coating, night vision and a wide view angle. What's more important than catching the burglar?
Say no to worries and panic attacks fearing burglars entering your premises by installing the Zosi security cameras. With Zosi, you have the luxury of the advanced and highly efficient video compression function. This video coding technology excerpts characteristics that emphasize the surveillance scenes' features for excellent image quality and sufficient storage.
Remarkably, the structure is of a weather-resistant coating hence long-lasting and reliable. Also, it has a clear 80-120ft night vision with a wide-angle of view about 110°. The single cable is better than the wireless technology since it is multipurpose in both power and video functions.
The motion detection is top-grade with the ability to advance the settings to avoid unnecessary alerts. Once you pair the camera system with your phone, you will be receiving emails and security alerts from the motion detectors.
Zosi, home surveillance system, has different video modes which you can connect to each camera separately. Besides, all you want is an explicit video from all angles. Moreover, it has an app that enables you to access your security from anywhere and anytime you wish.
5. Gw Security 8 Channel Smart Security Camera System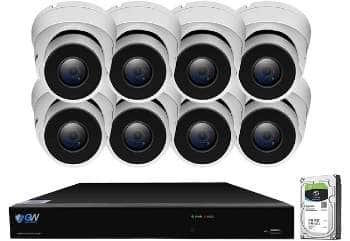 Overview: life is priceless; hence the ultimate need for security everywhere at any time. The smart app, 8 MP camera, large 4TB storage, easy plug and play installation, video compression and internet or software access- this is your ideal camera for your home and business premises.
"Knock, knock, who's there?" the GW video security system allows you to lock out unfamiliar faces and vehicles from your premises. This is because of the facial/vehicle recognition feature with 8MP clear camera that welcomes only familiar faces and cars.
Furthermore, you can pick voices with the faces with the help of the inbuilt microphone. Also, it has a broad point of view with zoom ability. This way, you can bring closer an image from a distance for better recognition. What's more?
The video encoding feature is fast to reduce data consumption. With this feature, you can also store as many videos and improve their quality.
The set-up is plug-and-play effortless with a single cable. Also, each camera comes with a specific IP address to allow easy and quick configuration. You can view the videos remotely or online with the particular smartphone app compatible with all screens. Not to mention the motion detectors that adds cheery on top of the ice-cream.
6. GW Security 8MP (3840x2160) 4K PTZ Camera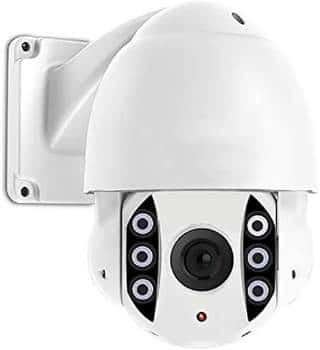 Overview: peace of mind comes when you are sure of your life and property's security. Video compression, ultra 8MP camera, night vision, rotating function and weather-proof- GW allows you peaceful nights and days.
Sleepless nights are the worst form of torture when you have to worry about your security every time. This POE home security camera can pan, tilt and zoom to monitor a large and far area during the day and night. Also, it comes in a weather-proof construction inclusive of a wiper to take away the snow.
GW surveillance cameras also have the most recent video compression quality, which brings widespread possibilities and assurance. It addresses problems such as lack of bandwidth, refining transmission competence and provides ultra HD image quality. Read on.
The clear 8MP camera makes sure you do not miss any detail of the intruders for easy investigation. Remarkably, you can mask the faces of people you do not want to show.
7. Annke Poe Nvr Cctv Camera System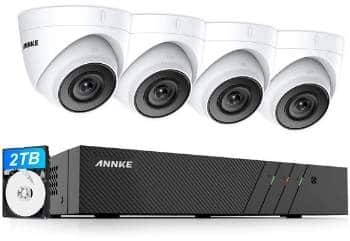 Overview: it's good to stay safe at all times hence the need for ANNKE surveillance system. It features advanced video coding, expandable 8CH 6MP NVR, smart motion detection alerts, privacy protection plan and 24/7 recording.
Remarkably one of the best features of ANNKE is that it supports eight cameras inclusive of other brands. You can easily connect all the new and old brands and get a seamless feed. You don't have to waste time waiting for the footage to load thanks to the advanced video coding. This ensures fast and smooth footage. It also takes up less storage and provides a more extended recording period.
The smart motion detectors alert you whenever there's intrusion any time of the day. All you need is to check the detected events and take necessary action to prevent more. Moreover, it jas a privacy protection plan whereby you can add or remove any unwanted member viewing the system. You also can lock your footage for safekeeping.
Still, this Ethernet camera system can record without internet. So you don't have to panic if the internet is down as the system will carry on 24/7. You can get the smart app for remote access whenever you are away. Lastly, the set-up is in 3 simple stages.
8. Jenova HD Poe Home Security Camera System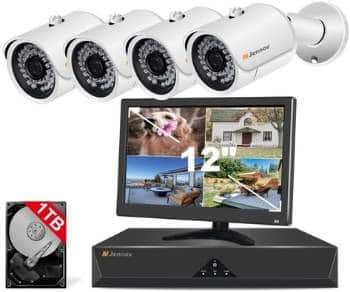 simply plug-in and play than rest. Jenova comes complete with a free phone app for remote viewing, HD day and night vision, in-built 1TB hard drive and easy set up with 65ft Ethernet cable.
The Ethernet cable also allows power, video and audio smooth transfer and easy installation. It also comes with a 12″ monitor to enable you to view the footages live or playbacks. Even with the cameras running simultaneously for 24hours daily, there's enough storage of 1TB in-built.
Moreover, you can set your NVR to overwrite the old footage. Also, there are motion detectors to allow you to stay alert at all times in case of any intrusion. You don't have to stress about intruders at night as this home security camera system has a clear night vision of 3MP. The filters allow you to capture surroundings clearly up to 100ft.
9. NOTE 4K 16 Channel Poe Security Camera System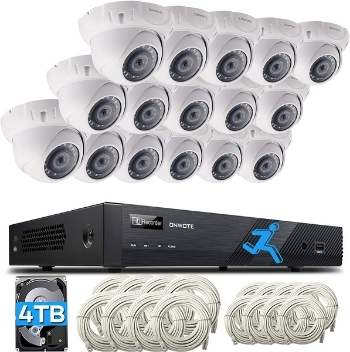 Overview: technology is taking over and providing a reliable and efficient security system. ONWOTE comprises smart and intelligent detectors, 16 4K cameras, video and audio HD recordings, and a single cable for power and Ethernet.
10. Ring Floodlight Camera Motion-Activated Hd Security Cam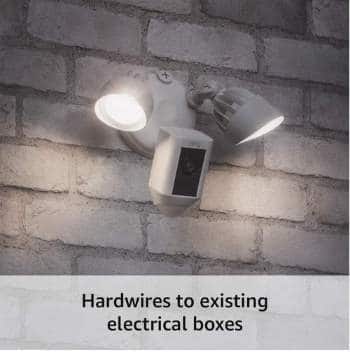 Overview: allow your security system to have more than just video and audio from the footage. Two-way-talk, weather-proof construction, infrared night vision and live view, bright floodlights with siren and privacy features-Ring security system has your back covered.
With Ring security cameras, you can see, hear and talk back to your visitors either from your phone, tablet or PC. To make this merely useful, you can connect this system with Alexa voice to alert you in case of motion or respond to visitors.
Moreover, the cameras come with ultra-bright LED lights that brighten the pathway. Also, the lights have a siren if you want to call for help when you detect burglars trying to break in. thanks to the smart motion detectors that send alerts to your devices if there's an intrusion.
Moreover, the system offers privacy and security features for customization to help you focus on what's meaningful. The entire device has a weather-proof construction to endure even extreme conditions.
Best PoE Security Camera Buying Guide
If you want to protect your business, home, or personal property, then a security camera can be the perfect option for you. But it's so complicated to maintain several cables to run a security camera. However, there is a solution for that: The Power of Ethernet (PoE) camera. It requires only one cable for each camera. To connect the camera and recorder, you only need a single ethernet cable, which transmits video and powers up the camera. 
Nowadays, everyone is starting to use PoE security cameras. Because it's easy to use and it's affordable. You won't have to worry about the time and installation charge because the PoE security camera doesn't take a long time and money during the installation. You can install it on your own. All you have to do is place the ethernet cable into the NVR and the camera, and you are done. The camera is now connected. 
What are The Advantages of PoE Security Cameras? 
The advantages of a PoE security camera are phenomenal. Everyone is now shifting to this camera for its features. Hence, here is a list of advantages you may consider. 
Maintenance: It requires less cable to operate. So, the maintenance is much more comfortable. You can maintain the camera with just a cloud system. The only thing you have to operate are the cameras, cables, and PoE switches. 
Flexibility: You can quickly move the cameras to other places. Because only ethernet cables are needed to move. 
Low Installation charge: Generally speaking, PoE cameras need a small amount of money to install. Anyone can install PoE cameras at home. It needs only one cable for the installation process, where the traditional cameras needed a large number of cables to install. 
Safety: PoE cameras have high-quality components, which ensures you the best service. It delivers the power safely and efficiently. These cameras have some additional key features such as overload protection, surge protection, voltage protection, and so on. So, it can prevent it from short circuits or excessive current. 
Scalability: You can add more cameras easily by adding more network connections. Also, you can operate cameras from all over the world. It's easier to add cameras if you want to add on the entire company. 
Reliability: You can also add an uninterruptible power source to ensure the cameras keep running when the electricity goes off. PoE has only one central power source. So, it's more reliable than the traditional one. 
What is The Best PoE Security Camera Brands?
Nowadays, there are a lot of PoE security camera brands. But obviously, not all brands can meet your needs. So, you may confuse which one will suit you. Thus, we came here with a list of the best PoE security camera brands and models. 
Reolink
Reolink is a very renowned brand for PoE security cameras. They provide the best quality components to ensure safety. We now have two models of the camera, which you may consider. 
Reolink 5MP PoE Cameras with 16 CH NVR: This model of Reolink is best for local video storage. This camera is like plug and play. Just plug the camera with an ethernet cable, and it's all done. Hence, there are some pros and cons of the camera.
Pros:
The NVR of this camera supports up to 16 cameras.
It has a 5-megapixel resolution. 
It supports personal FTP servers. So, you can stream video at super-fast speed.
The storage is three terabytes. It has two slots remaining, which is for upgrading the storage. 
Cons:
It has only an 80-degree view of the angle. 
It requires a paid subscription for cloud storage service. 
They don't support two-way audio because there is no speaker on the camera. 
There is no service for the smart platform. 
Local Video Storage Service
To enjoy local video service, you need to plug in the camera with the NVR and router. The good news is an NVR comes up with this model of PoE camera. The model of this NVR is RLN16-410. This NVR is pretty flexible. It has a built-in 3TB hard drive to store the videos, storing seven days of footage. Also, it has two more hard drive slots available, so you can extend the storage as you wish. Hence, the NVR supports up to 16 cameras, which is more than enough. 
Video Streaming Services
If you are at home, then you can stream the video on your TV or the monitor. You have to connect your camera with your tv with an HDMI or VGA cable. After plugging in the cable with your monitor, you can see the camera's best resolution footage. Reolink claims that they provide the best resolution according to your device. But what will happen if you are not at home? Don't worry. You can still stream the footage with an app. Reolink has its video streaming software for different platforms like Android, Windows, Mac. 
Lorex
Lorex is capable of covering the entire building. They have a 4k resolution camera system that can stream high-resolution video. Also, they give 100 feet long ethernet cable with the camera. These cameras are wall and ceiling mountable, which is appreciable. Hence, they also have some pros and cons.
Pros:
It supports night vision and low light spotlight.
93-degree viewing angle. And 4k resolution. Which is impressive.
The hard drive storage is expandable up to six TB.
It compresses the video with the H.265 system to utilize the storage. 
Cons:
They don't provide a cloud storage service.
It's so expensive for a four-camera system.
One NVR can only support eight cameras.
The mobile app is backdated.
What Types of Cables Do PoE Cameras Use?
Generally, PoE cameras use Cat 5 or Cat 6 cable to connect to the router and NVR. Cat 5 is also known as category five cable. It is an ethernet cable that can transmit the internet, bandwidth, and data. There is no significant difference between Cat 5, Cat 6, or Cat 5e. All the cables can be plugged into the same wan port. 
Cat 6 cables are great. But to operate a security camera Cat 5 cable is sufficient to power it up. Although, cat 6 is more advanced and future proof. But there is no need to increase the expenses. However, if you can afford cat six cables, then you should go for that. Because cat 6 is more stable and has more speed. 
Can PoE Cameras Be Hacked?
Unfortunately, yes. PoE cameras can be hacked as the camera is connected to the internet. So, hackers can hack it. But there are some rules you can follow to protect your camera from hackers. 
Always keep your camera's firmware up to date. Renowned camera brands like Reolink, Lorex, Amcrest, or ZOSI always keep their users safe. So, they always try to release firmware updates regularly. That update may contain a security patch, bug fixes, etc. So, try to update the firmware.
Change the default password of the camera. Use a complex password that cannot be guessed. Use a password that contains uppercase, lowercase, numeric number, symbol, etc. 
Set up a password manager. A password manager can remember your password. If you used a complex password, you may forget it would be great to use a password manager. This software can insert the password automatically. You won't have to do anything. 
If your camera supports two-factor authentication, then turn it on. This is optional, but it will give you extra protection. If you turn it on, then whenever you try to log in, they will send you a one-time OTP via message, phone call, email, or any other way. Without that code, you can't log in. So, it's a good idea to turn it on. 
What Is the Difference Between PoE Camera and an IP camera?
Both of these cameras have some basic functionalities. The difference between these cameras is slightly comparable. However, now we will show you the differences between PoE cameras and IP cameras. 
Pros of PoE Camera:
PoE cameras can transfer up to 2.5Gbps to 5 Gbps speed. If you connect the camera with a Cat 6 cable, you will get 10 Gbps speed with over 100 meters. PoE cameras have a significantly faster transmission speed. 
PoE cameras have a tremendous centralized power management system. If you don't set up an uninterruptible power supply, then your IP camera will shut down. But for the PoE cameras, you won't have to worry about this. PoE cameras have a single and centralized power supply. You can also operate that remotely. 
The installation process of PoE cameras is straightforward. You can do it yourself where the IP cameras require an excellent electrician.
The distance cannot jam the data transmission physically because it has higher transmission reliability. 
You can connect the PoE cameras at a distance of 100 meters, which is ten times wider than the IP camera. PoE cameras provide a broader range to cover an entire apartment. 
Cons of PoE Cameras:
To install a PoE camera, you have to create a hole in the wall. Which will nasty if you remove the camera afterward. 
The PoE Cameras are so expensive compared to IP cameras. 
Pros of IP Camera
You can operate the IP cameras remotely because it needs Wi-Fi to transmit the data. 
Since the IP camera needs Wi-Fi to transmit data, there is no use for the cable. So, you won't have to worry about maintaining the cables.
The price is lower compared to PoE cameras. Because it has fewer tools to operate, so it is budget-friendly. 
Cons of IP Camera
Since the IP camera uses Wi-Fi so it can hack, so it is not reliable for privacy.
Suppose you install like eight cameras, then your internet speed or mobile network will be hampered because IP cameras are Wi-Fi jammer. 
All the IP cameras have to be connected to the Wi-Fi. So, whenever the power goes down, your IP camera won't work. 
Frequently Asked Questions (FAQ)
Can I Use PoE Cameras at Home?
Yes, you can use PoE cameras at home. You can connect the cameras to your router using a cat 5 or cat 6 ethernet cable. The distance should be 300 feet in length. So, from the PoE switch, you can connect the cameras up to 300 feet. 
Is PoE Better Than BNC?
Compared to BNC, PoE cameras are higher-end CCTV cameras for the office or home. However, both have some additional key features which make them unique. PoE cameras have a high-resolution camera better than BNC. So, PoE cameras can be the perfect solution for your security system. 
Can I Watch PoE Security Camera Footage on My Phone?
Yes. You can stream the camera footage on your phone. All you have to do is download the app that the company provides. Like Reolink has its app to stream. Go to the play store and search for Reolink. Then download the app and connect it to the camera. Then you can enjoy the stream through your phone even if you are outside the home. 
Can PoE Cameras Work Without the Internet?
Yes. These cameras can continue the functions even without the internet. When it gets disconnected from the internet, it records the footage to the hard drive. Then when it connects to the internet, it recovers the remaining data. When it gets disconnected from the internet, you won't see the footage on your phone. But still, you can watch the footage through the HDMI or VGA cable on your monitor or tv. 
Does PoE Camera Slow the Internet?
It's a little bit tough to answer. Because it depends on the environment, if you install more than eight cameras, their radio radiation can affect the network. For that, the Wi-Fi speed or mobile network can get distracted. Those cameras are like Wi-Fi jammers. It can jam the internet and slow down the speed. But if you install a few cameras, then you don't have to worry about this.
Conclusion
Nothing is worth losing. Save yourself some heartaches and pressure from constant fear and worry about burglary—beef up your property's security by getting any of the above PoE security cameras.
"Security is always excessive until it's not enough"-Robbie Sinclair.